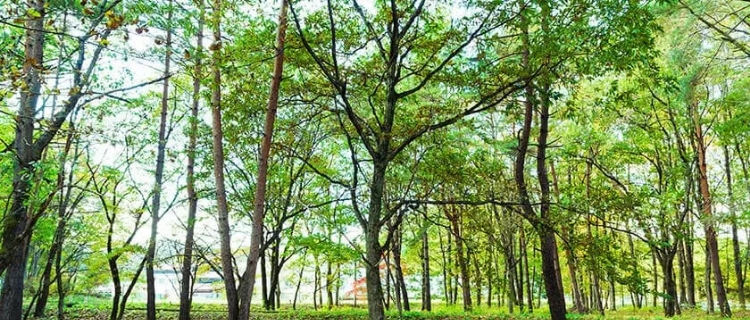 Global biodiversity is in a critical situation. Thousands of species are becoming extinct every year, the quality of our natural world is declining, and ecosystems are being destroyed. As a result, it is becoming increasingly important for companies to engage in biodiversity conservation.
The Seiko Group, as a company whose business activities both benefit from and affect various ecosystems, believes that the conservation of biodiversity is a vitally important issue for environmental management. Each Group company promotes its own biodiversity activities. We strive to realize a "society in harmony with Nature" by engaging in a variety of initiatives, including biodiversity-friendly land use, planting activities, consideration of biodiversity in products, collaboration with stakeholders, and educational awareness.
FY2021 Overview
The Seiko Group operating companies promote biodiversity activities tailored to their own locations and surrounding environments.
In FY2021, each unit of Seiko Instruments, Inc. appraised local biodiversity by surveying, photographing, and recording the living creatures at each site, and sharing the results with employees at each site to improve their understanding of biodiversity. They also continued a variety of ongoing activities based on the SII Group Land-use Guidelines on the Conservation of Biodiversity.
Morioka Seiko Instruments Inc. held its 10th Nature Observation event. In cooperation with Seiko Group Corporation, they also held the Seiko Exciting Environment School to teach children the importance of biodiversity.
Biodiversity-Conscious Land Use
Back in April 2011, the SII Group formulated its in-house Biodiversity Action Agenda and began biodiversity conservation activities. Subsequently, in February 2016, the company issued the SII Group Land-use Guidelines on the Conservation of Biodiversity. The Group continues to use green space at its facilities based on those guidelines, and it contributes in multiple ways to the conservation of local biodiversity. In FY 2021, each office or plant developed its own initiatives that were appropriate for that site.
Protecting endangered species
In June 2020, the Ohno Unit of Seiko Instruments Inc. discovered 14 specimens of the endangered golden orchid (Ministry of the Environment's Endangered Species II) on the facility's grounds. Since then, the firm set up a protection area to carefully look after the plants. The Ohno Unit is located in a residential area in the center of Ichikawa City, Chiba Prefecture. We are very happy that the golden orchid was discovered in such an environment, and that we have been able to see it bloom each year.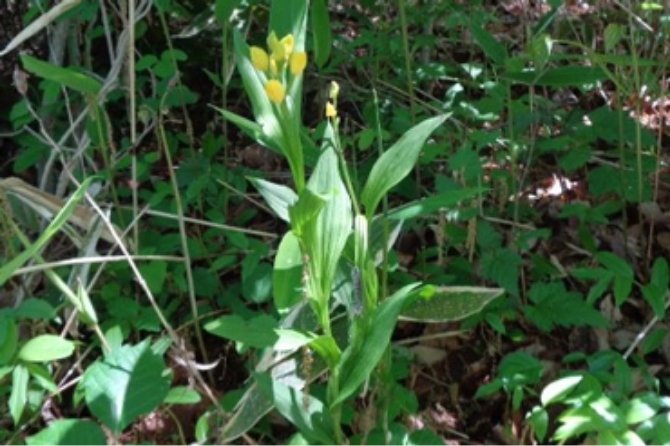 Biodiversity conservation requires not only efforts by companies, but also collaboration with various stakeholders, including local communities, municipalities, and NPOs.
Since February 2016, three Units of Seiko Instruments Inc. in Chiba* have been registered as Partners in Conserving the Japanese White Pine (Pinus Parviflora) and have been actively cultivating it as part of Chiba Prefecture's project to restore this endangered species. By growing seedlings and reporting about the growth of the pine trees under its care to the Chiba Prefectural government every October, SII is also helping to preserve this rare genetic stock.
*The three units located in Chiba Prefecture are the Makuhari Unit (Chiba City), Takatsuka Unit (Matsudo City), and Ohno Unit (Ichikawa City.)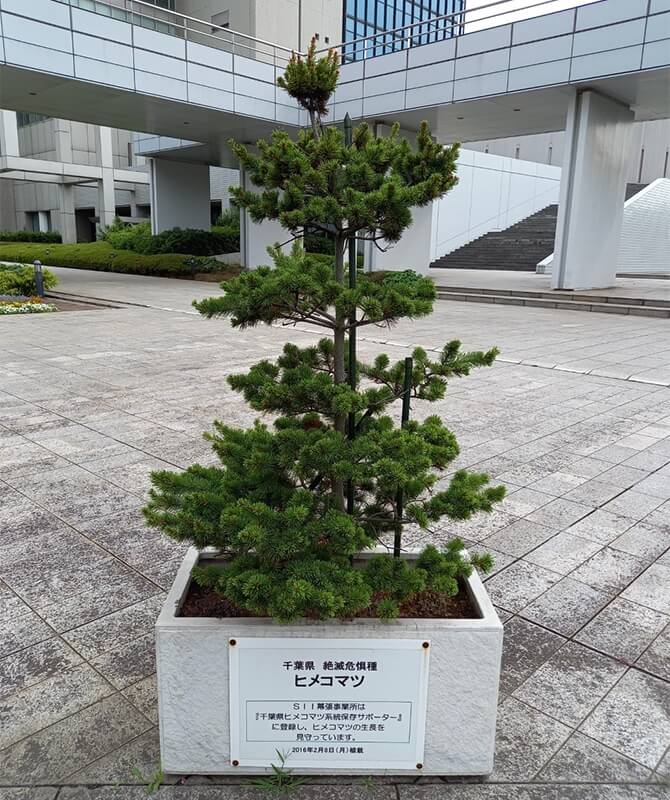 Greening activities and creation of flower beds
SII Crystal Technology Inc. has been promoting the greening of the company's grounds. For example, in the spring and fall of FY2021, more than 30 employees participated in planting moss phlox seedlings.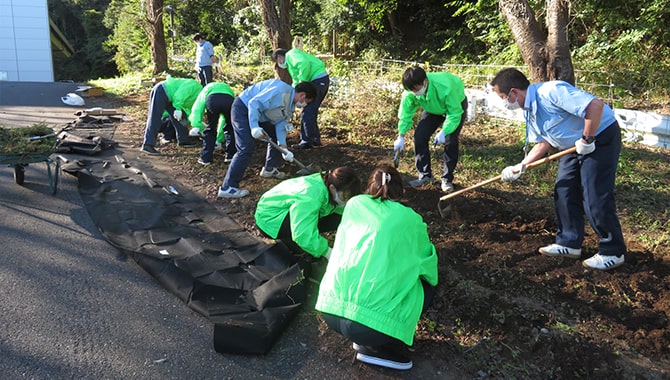 Dalian Seiko Instruments Inc. (DSI) in China is also promoting continuous greening, and in FY2021, two new greening areas were established and planted with acacia, forsythia, lilac, and other plants. DSI has been continuously working to create green areas that support biodiversity. The use of pesticides and herbicides is avoided, and dead branches and fallen leaves are composted and recycled on the premises.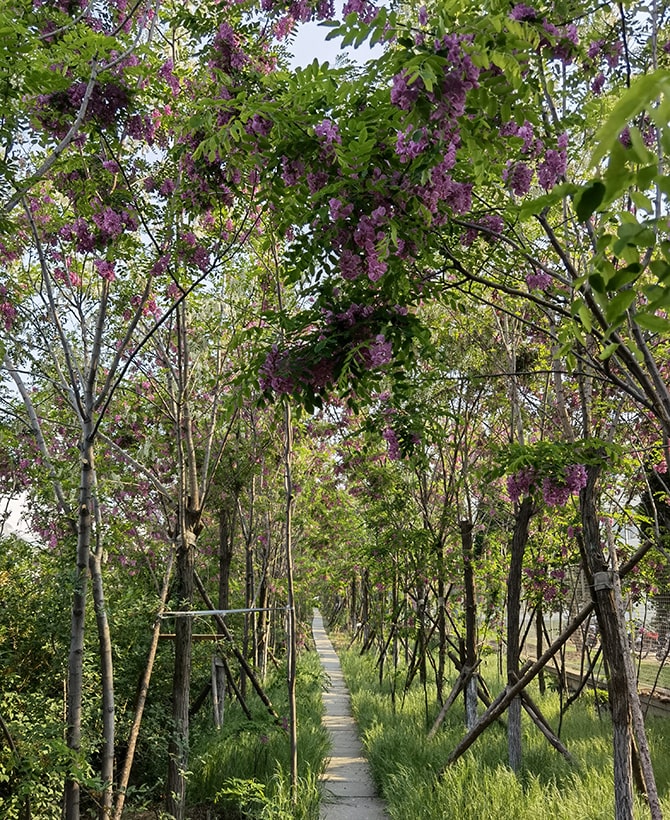 The Makuhari Unit of Seiko Instruments Inc. does not have a large green space, but under the slogan "year-round flower-filled workplace," employees have been working to create flowerbeds. Since 2017, the Makuhari Unit has participated in the annual flowerbed creation contest in the Makuhari New Urbanization Area, a project to promote horticultural innovation organized by the Chiba Prefecture Regional Council for Flower and Plant Promotion. In FY2021 the Unit was delighted to receive the Council's Encouragement Award.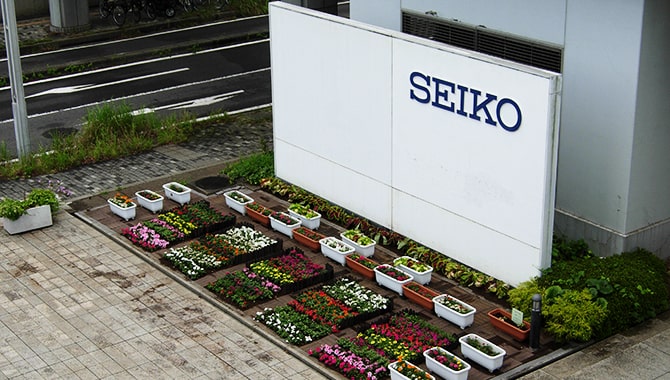 Providing Habitats and Conducting Wildlife Surveys
As part of our efforts to provide habitats for living creatures, each Unit of Seiko Instruments, Inc. has installed birdhouses and bird baths. In addition, we conduct wildlife surveys using sensor cameras and other equipment to deepen understanding of the living creatures that inhabit the premises of our business sites, and use the survey results in educational activities for our employees.
At the Sendai Unit, we improved the environment in which bird baths had already been installed. Since there was no evidence of their use after installation, a space was created in a new location using wood, plants, and trees to provide a safe environment for living creatures to use. A sensor camera installed nearby later confirmed that a squirrel was using the area.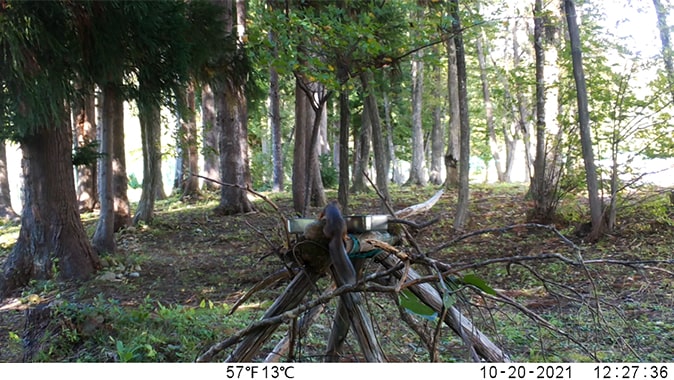 Nature observation event
Morioka Seiko Instruments Inc. (MSI) held a nature watching event. This nature watching event has been held since 2012 as an opportunity to receive guidance on biodiversity conservation activities from invited experts. In FY2021, the 10th event was held in conjunction with a remote site, as in previous years. A total of 34 people participated on the day, including experts, internal company personnel, and government officials.
As the event marked its 10th anniversary, we looked back on past activities and their achievements, and since it was the first time the event was held in winter, we observed winter forest creatures and learned about their ecology.
MSI continues to monitor animals at several locations on its property using sensor-automated cameras. The results were shared during the day's program, and the experts also explained the ecology of the animals and its relationship to biodiversity. Many wild animals could be seen on the cameras, confirming that the animal habitat has been improving and, in turn, biodiversity has improved. We will continue to hold nature observation events in the future, aiming to further improve biodiversity and communicating the importance of biodiversity.
MSI and Seiko Group Corporation jointly held the Seiko Exciting Environment School to teach children about the importance of biodiversity through the creation of an insect hotel*.
In August 2022, with the cooperation of Iwate Prefectural University, the firm opened a biotope equipped with a water resource recycling mechanism on its premises.
*Insect hotel. Created using waste wood, fallen branches, bamboo tubes, etc., it aims to create a diverse ecosystem by providing a place for insects to breed and overwinter.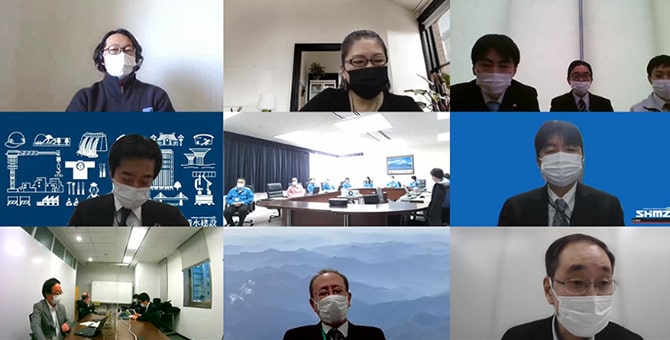 Education and awareness
Individual understanding and action are essential for the conservation of biodiversity. The Seiko Group is continuously working to raise awareness of the importance of biodiversity conservation through environmental education and by distributing information on the intranet at each operating company.
SII Crystal Technology Inc. visualizes the plants that inhabit the company's premises with explanations on a map of the premises, and uses this information for educational activities.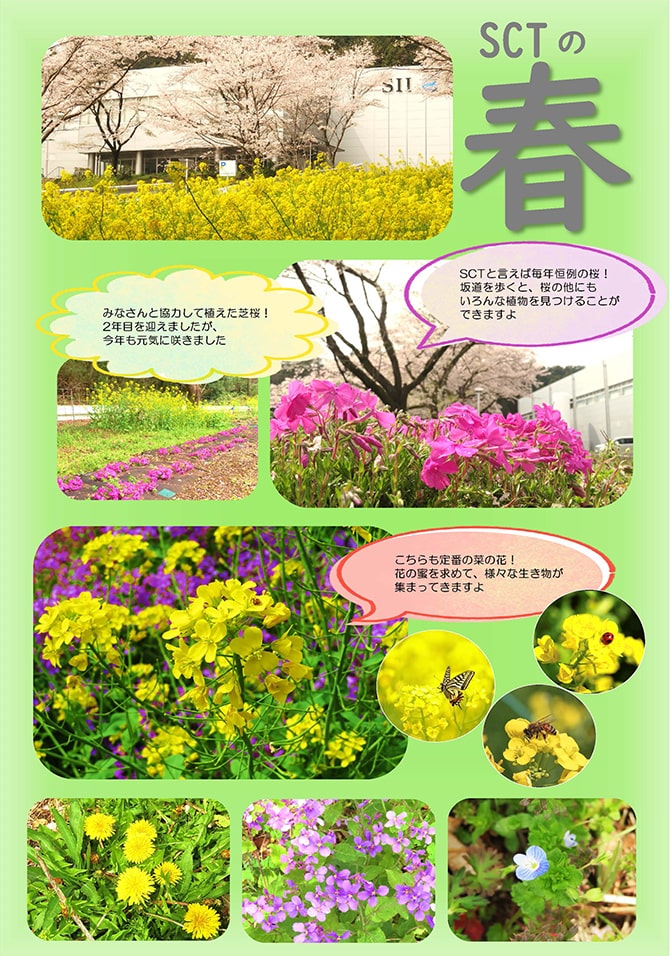 Products and Biodiversity
In FY 2016, "consideration for biodiversity" was added to the environmental compatibility factors for the SII Green Product Standards (now the Green Products Certification System of Seiko Group Corporation). In these standards, we have specified items to be considered for each of our products in order to strengthen our commitment to biodiversity .