Excellent customer service is appreciated more in the long term, and Seiko understands the importance that our customers place upon this area. We pay close attention to customer comments and requests, including their inquiries, consultations, opinions or repair orders, and we strive continuously to provide proper, quick and fair responses to deepen the trust of our customers.
A service network that covers markets throughout the world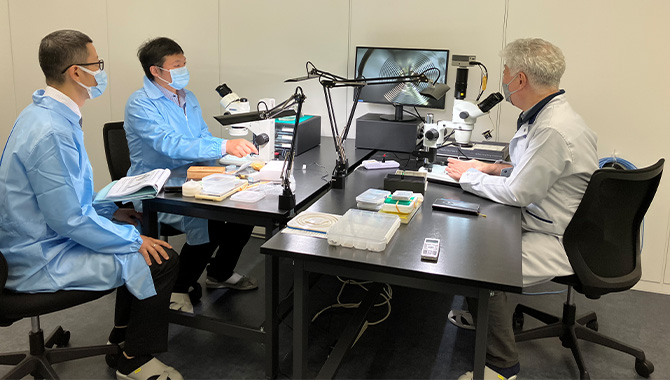 Seiko Watch Corporation operates a service network spanning 146 locations in 94 countries and regions. The Head Office After Service Department aims to realize a uniform level of high-quality service everywhere in the world by monitoring and improving the quality of service in each region. One example of the activities we undertake to attain this goal is the Seiko Certified Watchmaker Program, started in 2010. Under this program, outstanding repair technicians are gathered from regions around the world and those who pass an examination are recognized as Seiko Certified Watchmakers. These Seiko Certified Watchmakers can then return to their respective service centers and, through their enhanced skills and experience, raise overall levels at these centers by instructing their colleagues. This program is already being implemented in Asia, Europe and the United States and the number of Seiko Certified Watchmakers is steadily increasing.
We are also setting even higher standards for our service center facilities. Our global aim is to undertake overhauls in controlled environments where airborne dust is virtually non-existent. We pay particular attention to the servicing of our luxury brand, Grand Seiko. Taking into careful account our customers' deep affection for, and knowledge about, their Grand Seiko watches, we have a special policy for movement overhaul. Rather than replacing the watch's movement, we overhaul each movement that is brought to the service center. For all our brands, we will expand and upgrade our service centers so that they can carry out prompt overhauls, repairs and maintenance.
"Online Repair Request Handling" for easy access to manufacturers' repairs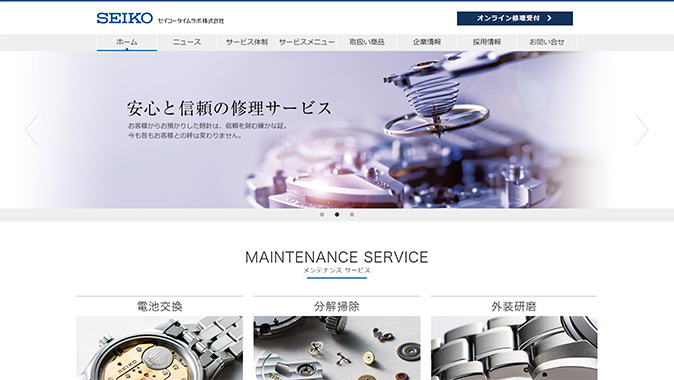 In 2011, Seiko Time Labs Co., Ltd. commenced an "Online Repair Request Handling" service. When customers input the necessary information into their PCs or smartphones, this system immediately displays a repair cost estimate and projected delivery date on the screen, after which customers can request the repair. Customers who are busy or who have no nearby sales outlet to utilize our repair services easily can ensure that their watches are repaired or refurbished in the best way using genuine parts by way of advanced equipment and skilled craftsmanship.