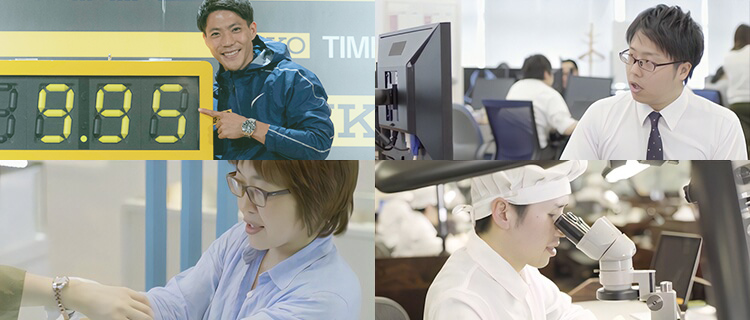 The Group believes that the realization of a workplace environment in which each and every employee is able to work with peace of mind not only fulfills our social responsibilities but also contributes to the sustainable enhancement of corporate performance.
Basic policy
In the 7th Mid-Term Management Plan of the Seiko Holdings Group, the basic policy of our human resources strategy involves preparing an environment where personnel with diverse senses of value can work enthusiastically, aiming for sustainable growth of the Group by creating a virtuous cycle of "recruiting," "cultivating," and "leveraging" human resources.
We have established an "Employee Empowerment Committee" to promote further diversity across the entire Group, promote the sharing of information and exchange of opinions, and prepare a workplace environment where all employees can play an active role, including women, seniors, and employees with time constraints, while also promoting initiatives for improving productivity and health management.

Promoting Diversity through Recruitment
In order to realize the Group's ideal structure in 2025, we will emphasize mid-career hiring in addition to new graduate hiring, and will also actively engage in global recruitment (hiring of foreign nationals) to further promote diversity. We believe that diverse human resources are a key corporate asset and will help to create sustainable innovation within our Group.
Seiko Career Academy
The Seiko Holdings Group is taking various Group-wide recruitment measures in order to increase diversity in our hiring. In particular, the Seiko Career Academy, which has been held since 2015, is attracting attention as a program that not only provides advice on job hunting activities, but also enables students to acquire knowledge and learn ways of thinking that can be useful even after they enter the workforce. The success of this program has increased our opportunities to meet a wide range of students. In addition, we promote a deeper understanding of our Group by holding information sessions designed from the students' perspective. This helps to build trust in our Group businesses, which should help us to acquire and retain highly motivated personnel. To further the sustainable development of the Group, we will continue to hire people who show potential to grow along with us.
Development of Diverse Human Resources
The Seiko Holdings Group is a global group engaged in a variety of businesses. It employs a wide range of employees in terms of nationality, personal background, and type of work, and we are working to help each and every one of them develop their skills through training programs that match the characteristics of each business and the local characteristics of each region.
In addition to training by job level to develop leaders and improve their abilities, which is required in the age of the new normal, we are also working on global human resource development training.
Global human resource development system and skills transfer
Seiko Instruments Inc., which accounts for most of our Group's overseas manufacturing sites, conducts the same vital training programs at its overseas sites as it does in Japan. We have established a system in which HR staff from Japan and overseas work together to formulate and promote human resources development policies, training systems, and training plans at each site.
In FY 2018, we introduced a system to certify employees at our manufacturing sites who have advanced expertise as "Meisters." The Meister system promotes the passing on of skills and technologies and helps to foster generations of skilled successors.

Creating a creative organization and culture
Seeing value from the customer's perspective is essential in the rapidly changing environment of the IT industry. In order to continue to provide that kind of customer-centered value, Seiko Solutions Inc. relies on design thinking and regularly conducts design thinking training. We are trying to strengthen and spread this concept within the Company in order to spark more innovation throughout our organization.
Creating an Environment to Make the Most of Diverse Abilities
In addition to developing human resources, we are working to create an environment in which all employees can feel motivated to work and demonstrate their abilities. We are also working to strengthen human capital, increase productivity, and maximize organizational capabilities throughout the Group by optimizing the allocation of human resources.
A work system that supports a variety of work styles
The Seiko Holdings Group believes in actively promoting a healthy work-life balance.
Things such as childcare, nursing care, self-development, and volunteer activities enrich employees' lives, foster new knowledge, and refresh workers so that they feel a greater sense of connection with their work. Some of our Group companies have introduced special systems, such as the Shortened Day System, which reduces the number of working hours per day, and the Shortened Week System, which reduces the number of days worked per week.
We aim to secure a diverse workforce and improve productivity by allowing employees as much freedom as possible to work in ways that suit their individual lifestyles.
In-house recruitment system
Seiko Instruments Inc. has established an In-House Recruitment System to encourage employees to select their own jobs and demonstrate their abilities, to speed up the reallocation of human resources in response to changes in the business environment, and to maximize effective use of human resources. This system allows all employees to apply for positions offered by each division, as long as certain conditions are met. We respect the motivation of our employees and support them in broadening their career choices.
Promoting Employee Diversity and Empowerment
In order to further promote diversity, we have established an Employee Empowerment Committee as a cross-Group organization to share information and opinions about how best to develop our existing human resources. This Committee works to develop a workplace environment in which all employees, including women, the elderly, and those with time constraints, can work freely and happily, while at the same time it looks for worker-appropriate initiatives to improve productivity.
In FY 2020, as part of our measures to prevent the spread of COVID-19, we accelerated our digital transformation, taking advantage of Internet technology to promote things like telecommuting and web conferencing throughout the Group.
Since FY 2013, the Group has worked to promote women's activities. We have held training and lecture meetings, disseminated information through the Group Website, and introduced various systems to help promote women's roles in the SHG. As a result, the ratio of female managers in the Group rose from 5.3% in 2013 to 13.7% in 2021. In the 7th Mid-Term Management Plan (a three-year plan starting with the fiscal year ending March 2020), we will continue to actively promote female managers, aiming to increase that ratio to 15% by 2022.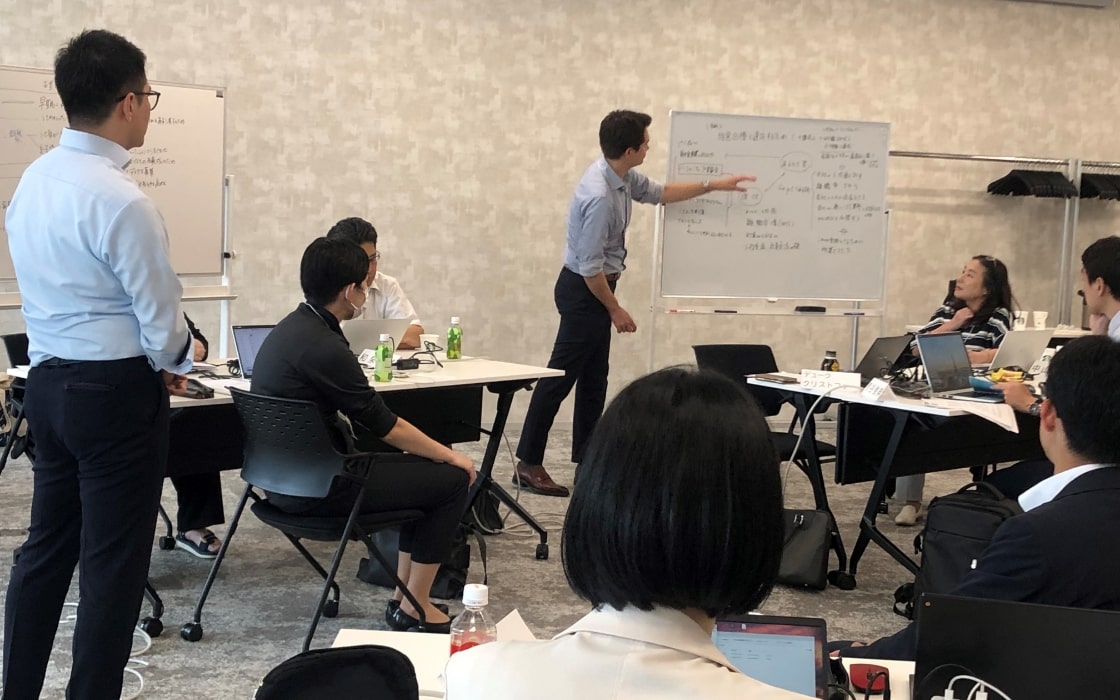 Health Management
Beginning in FY 2019, the Seiko Holdings Group added Health Management to its efforts to promote an optimal working environment for employees. The Employee Empowerment Committee, HR managers at each company, and the Health Insurance Union are now working together to promote health management. Since 2020, Seiko Holdings Corporation and Seiko Watch Corporation have been certified as Excellent Corporations for Health Management (Large Corporations Category) for two consecutive years in recognition of their excellent health management efforts.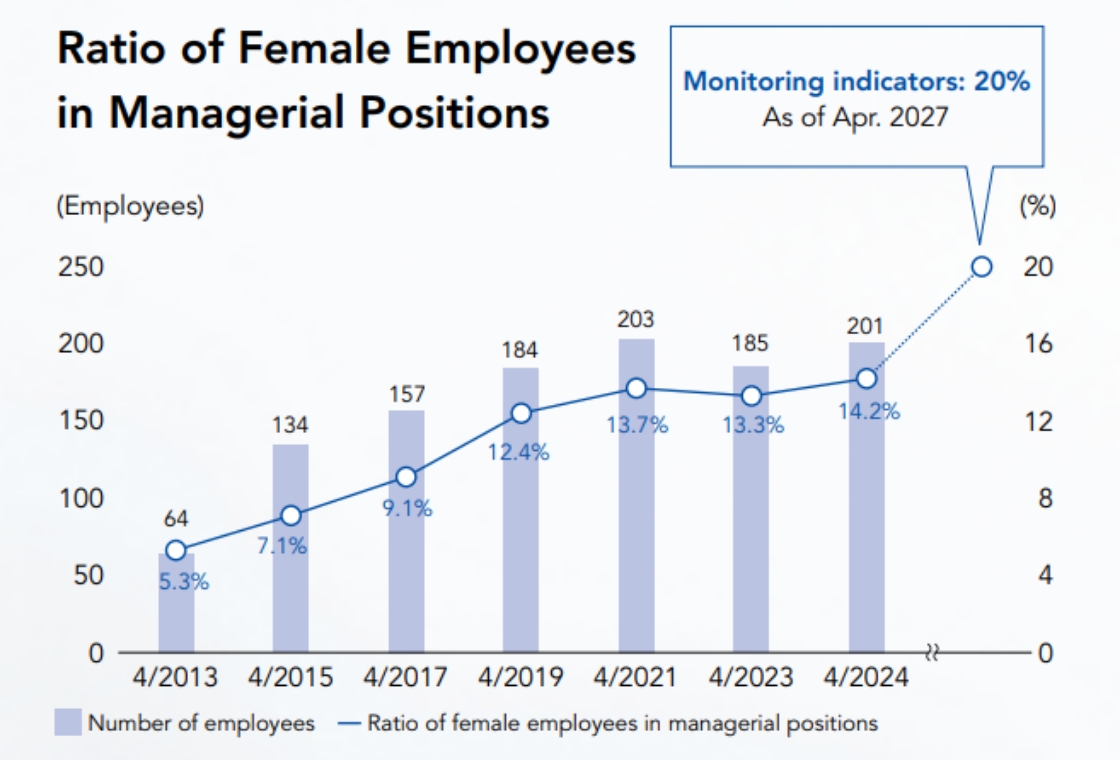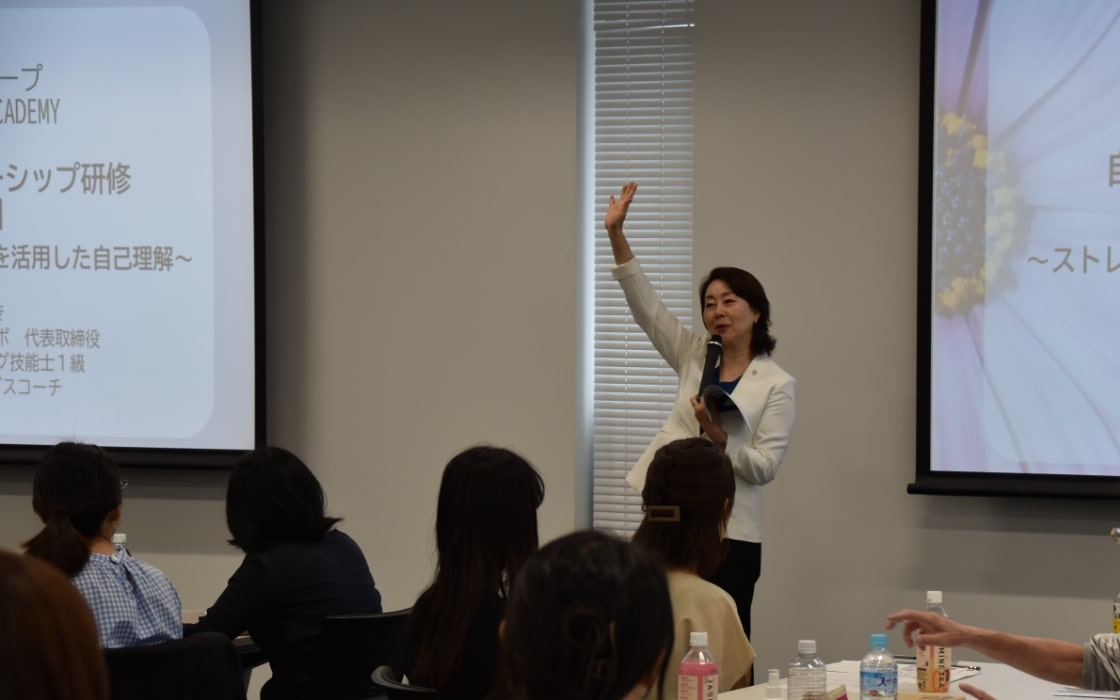 Promoting Senior Human Resources
The Seiko Holdings Group is actively promoting initiatives that encourage senior employees to recognize their importance to the Company and to understand that they are "trusted key personnel." We show them that the Company needs their specialized skills, their accumulated knowledge, and their personal connections. We want all senior employees to realize that they are strong contributors to the Company's success—not just sitting on the bench, but serving as active players on a winning team.
Employment of Individuals with Disabilities
As part of our efforts to promote diversity, we are actively promoting the employment of individuals with disabilities. As of June 1, 2021, the employment rate of individuals with disabilities was 2.65%, exceeding the legally mandated rate of 2.3%.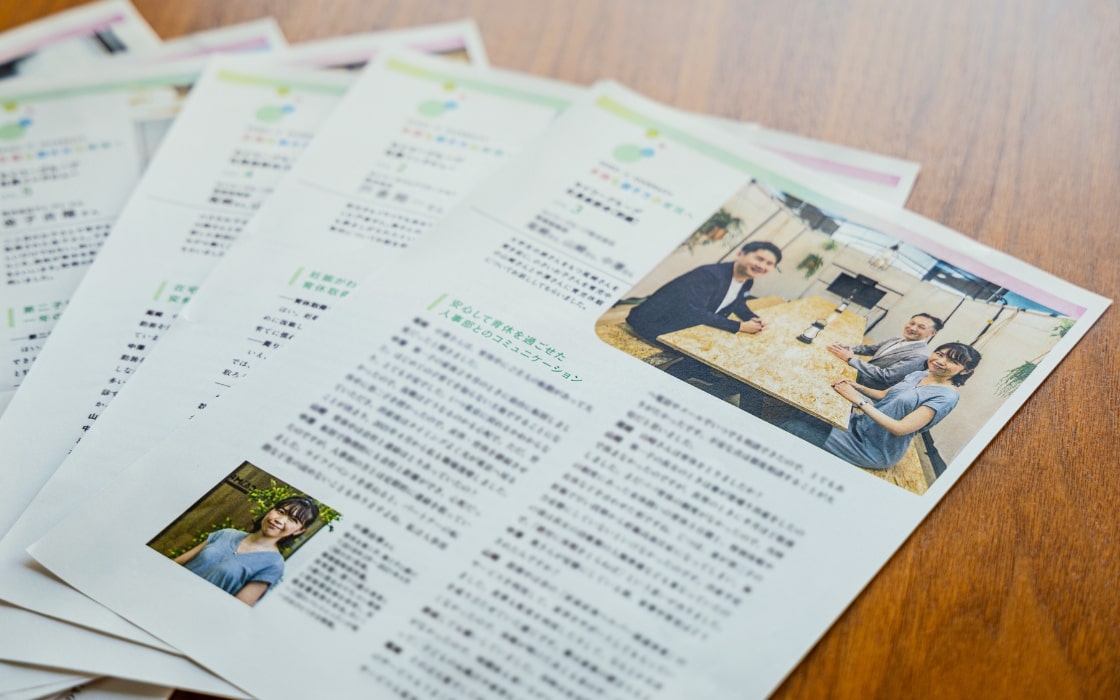 Parental Leave and Shortened Working Hours for Childcare
The Seiko Holdings Group is making efforts to ensure a healthy working environment in which employees who are eligible for parental leave can take time off work for child birth, and afterwards can reduce their normal working hours in order to care for newborn children. We offer a program of reduced working hours in line with the Child Care and Family Care Leave Act. We are striving to create a workplace in which all employees can enjoy peace of mind and develop their full potential.
Number of Employees Taking Advantage of Parental Leave or Shortened Working Hours for Child Care (Major corporate groups in Japan; number of individuals)
2016
2017
2018
2019
2020
Childcare leave
74
100
101
61
70
Shortened working hours
115
112
109
92
90
Family care leave and shortened work hours for family care
Seiko Holdings is establishing systems that surpass statutory requirements for family care leave and for shortened work hours for family care.
Family care leave
Leave period of a total of 365 days per person for the subject family.
Shortened work hours for family care
The applicable period shall be up to three years from the start of usage.
Employees can choose from among prescribed work patterns, with working hours reduced by either 90 minutes or 150 minutes.
In addition to the above, Seiko Holdings has introduced family care flextime working hours.
Safe, pleasant work environment
Safety and health management
Seiko Holdings Corporation fully implements the safety and health management regulations specified in the Labor Standards Act, Industrial Safety and Health Act and other legal provisions of Japan relating to safety and health. We aim to ensure the safety and health of employees through such means as appointing persons in charge of overall safety and health, health supervisors and industrial physicians, providing periodic health checks and establishing the Health Committee.
Promoting mental health measures
In accordance with the Guidelines for Promoting Mental Health Care in Enterprises of Japan issued by the Ministry of Health, Labour and Welfare in August 2000 and in response to the shift to mandatory stress check tests following revisions to the Industrial Safety and Health Act of Japan in December 2015, we are promoting employee stress check tests, management training, specialized care from industrial physicians, and the establishment of an external consultation desk, etc.
| | Principal measures relating to mental health |
| --- | --- |
| 1 | Self care (employee stress check test, etc.) |
| 2 | Employee care (management training, etc.) |
| 3 | Care from internal health workers (specialized care from industrial physician, etc.) |
| 4 | Care from a specialized institution outside the Company (establishment of an external consultation desk) |
Miscellaneous data
Average unapproved overtime hours (FY 2020)
2.9 hours
Average age of employees (as of March 31, 2021)
Males: 46.0
Females: 42.6
Average years of service (as of March 31, 2021)
Males: 20.2 years
Females: 17.4 years
Turnover rate within three years (retention rate)
4.5% (95.5%)
Seiko Holdings Corporation and domestic subsidiaries