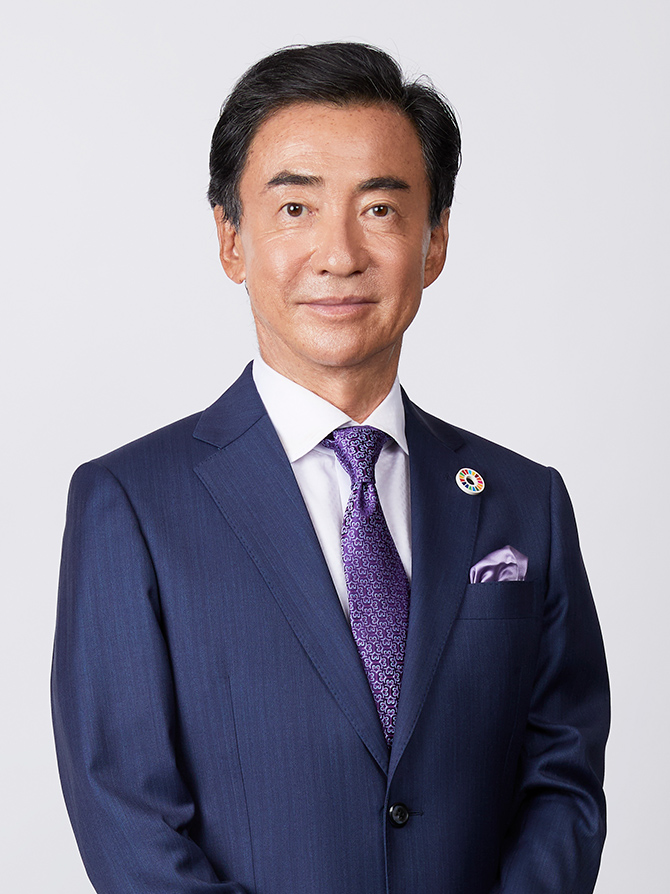 Seiko Group Corporation
Director, Chairman, Group CEO, and Group CCO
Shinji Hattori
As of October 1, 2022, Seiko Holdings Corporation changed its name to Seiko Group Corporation. By strengthening the Group's integrated corporate strength and shifting toward a management style that actively connects our Group companies, we are transforming our business into a sustainable management structure that addresses social issues as well as serving our customers. We are generating synergies among our various operating companies and growing together as one team – not by simply combining our diverse individual strengths, but by multiplying their power to produce a far greater combined energy.
Last year, the Seiko Group established an official Statement of Purpose:
"As a company trusted by society, we will
constantly pursue innovation, inspiring people
everywhere, and creating a future full of smiles."
We believe that delivering a bright future to the next generation ("creating a future full of smiles") is an essential role for those of us here in the present.
Our new Mid-Term Management Plan, called Seiko Milestone 145, or SMILE145 for short, was announced in May of 2022. Its main message is for us to become a "solutions company" rather than simply a hardware and software sales company.
No company or brand can be sustainable if society itself is not sustainable. This concern for the social context in which we operate is in line with our founder Kintaro Hattori's desire to "contribute to society through the watch business." That spirit has been passed down in our DNA along with our corporate philosophy, to always be "A company that is trusted by society."
Today, the world is facing many challenges, including environmental problems, diversifying values, and geopolitical risks, among others. As a solutions company, we must remain close to society and provide products and services that help to solve its problems, so that each of us can lead a better life. With that in mind, SMILE145 established a system of three strategic domains based on the value we provide, rather than the product/service-based business segments we have used in the past.
These three strategic domains are: the Emotional Value Solutions Domain, the Devices Solutions Domain, and the Systems Solutions Domain. Through these strategic domains, we will respond to social needs across a wide range of fields and achieve sustainable growth as a Group.
We will also strengthen our human resource development and diversity, which help promote our business growth strategy, and accelerate our digital transformation in order to create new value. We will work together with all our stakeholders to address social issues while we continue to grow.
With the change of our company name, we will return to our roots as a "solutions company" and, staying "always one step ahead of the rest," we will continue to share with our stakeholders the special moments that move us. We will bring the slogan "SEIKO: Moving ahead. Touching hearts" to life while advancing toward our 150th anniversary and beyond, into a future full of smiles.
We look forward with pride and pleasure to your continued support.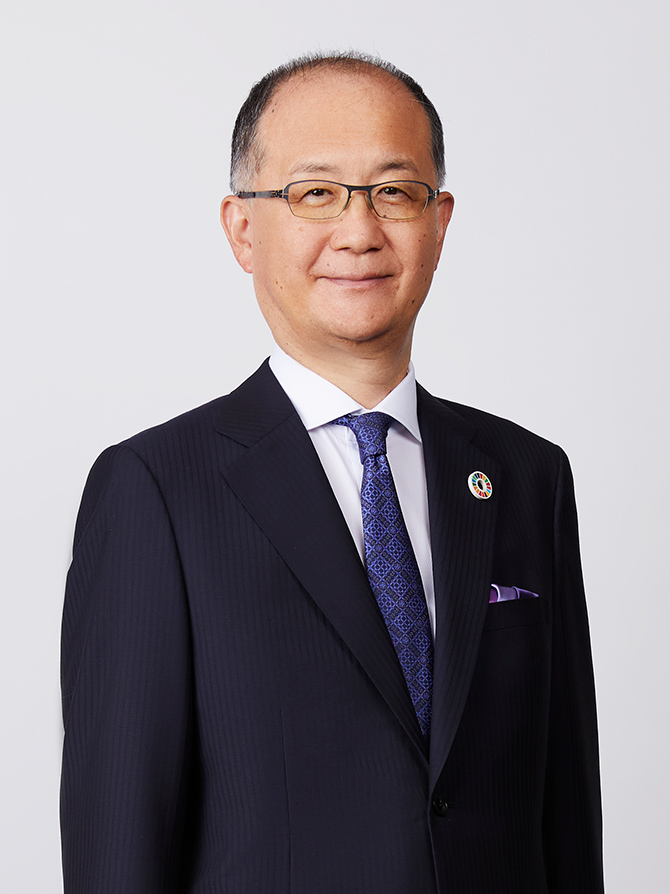 Seiko Group Corporation
Director, President, and Group COO
Shuji Takahashi
In 2022, our Group launched a new Mid-Term Management Plan called Seiko Milestone 145, or SMILE145 for short — because this five-year plan runs to FY2026, the 145th anniversary of our founding.
We are acutely aware that our business is caught in a time of rapid, destabilizing change, a period widely referred to as VUCA (Volatile, Uncertain, Complex, and Ambiguous). In recent years, uncertainty in the business environment has increased tremendously. We must respond to these changes flexibly, and rapidly implement new strategies to ensure stability.
From a longer-term perspective, this Mid-Term Plan aims for sustainable growth, not merely by increasing our earnings results, but by working together with the societies in which we operate to build a better future.
The Mid-Term Plan was formulated by backcasting from the Group's 10-year vision. We will use this approach of "looking backwards from our successful future" to accomplish each task along that path and achieve our mid-term goals by FY2026.
By 2026, we aim to become
"A solutions company that offers
high-added-value products and
services that create excitement and
generate substantial profits."
The basic policy of SMILE145 incorporates a strategy we call MVP: Moving (emotional), Valuable (high value-added), and Profitable (returning high profits). To become a solutions company, we need MVP products and services that are not only competitive, but also have substantial growth potential. We will promote our MVP strategy to achieve growth and impress our stakeholders around the world.
In developing SMILE145, we have changed our business portfolio, from a watch-centered portfolio to one that grows each of our three newly established strategic domains (Emotional Value, Devices Solutions, and Systems Solutions). In addition, this Mid-term Plan sets out five core strategies as common to all domains: SDG activities; human resource development and enhanced employee engagement; acceleration of digital transformation to support innovation; reinforcement of R&D activities; and improved branding activities. This will help us to promote a "matrix management" concept that integrates domain-specific business strategies with the Group's core strategies.
As of October 1, 2022, we changed our name to Seiko Group Corporation. The name reflects our desire to further strengthen our Group's internal ties and to better connect with our stakeholders. Our official Statement of Purpose says: "As a company trusted by society, we will constantly pursue innovation, inspiring people everywhere, and creating a future full of smiles." With this goal in mind, our Group will promote sustainability management by working together to realize an inclusive and recycling-oriented society. We look forward to your continued support.