The Group is committed to contributing to the communities that host its facilities and to society as a whole.
Timing and sponsorship of sports events overseas
The overseas subsidiaries and distributors of the Seiko Holdings Group work to contribute to the vitalization of local communities through sports-related charity events and participation in volunteer activities.
Seiko Time to Shine
During the IAAF World Athletics Championships Doha 2019, an event was held to inspire interest in athletics among young people. Boys and girls of ages 15 to 18 participated in races held in the same stadium used by the world's top athletes, utilizing the very same equipment, while receiving explanations about that equipment. The young participants were thrilled to experience such a realistic event, which even included an entrance performance. Long-jump world record holder Mike Powell also participated, adding to the excitement.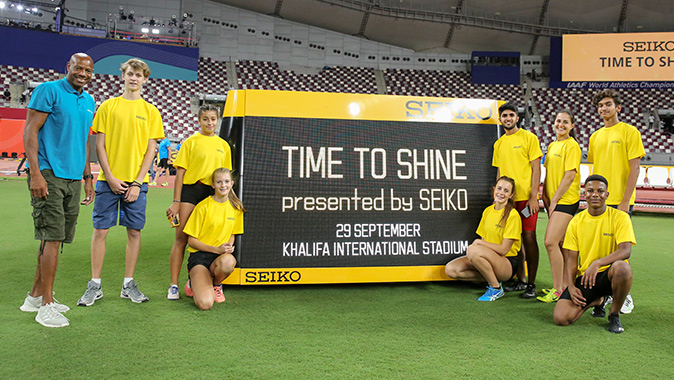 Sports event supporting social rehabilitation of ex-offenders
Seiko has supported the Yellow Ribbon Prison Run held every year inside Changi Prison in Singapore as official sponsor since 2011. The sports event aims to support a social rehabilitation program for ex-offenders and approximately 10,000 regular runners who endorse the cause took part in 2019.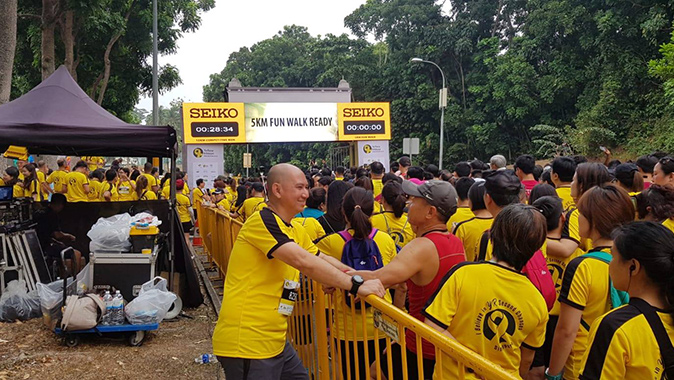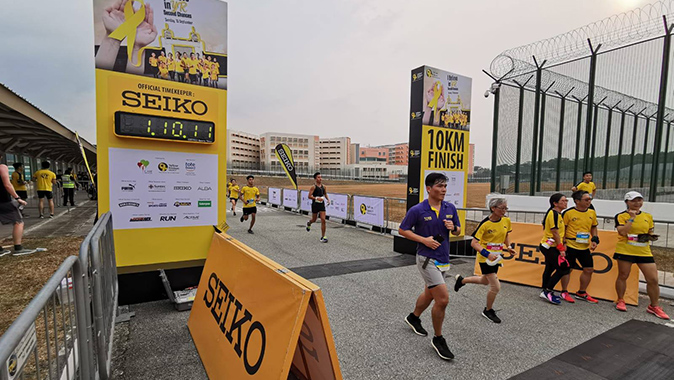 Timing and sponsorship of sports events in Japan
Companies in the Seiko Holdings Group are contributing to the development of children and youth through sports by making the most of the characteristics of respective businesses.
Sports Hinomaru Kids
The Sports Hinomaru Kids Association holds a wide variety of competitions and events throughout the year, including judo, basketball, bicycles, and soft tennis, with the aim of deepening the bonds between parents and children. Seiko supports the annual activities of the Sports Hinomaru Kids Association and provides prizes for the competitions, such as Seiko sports timer digital alarm clocks and kids' watches.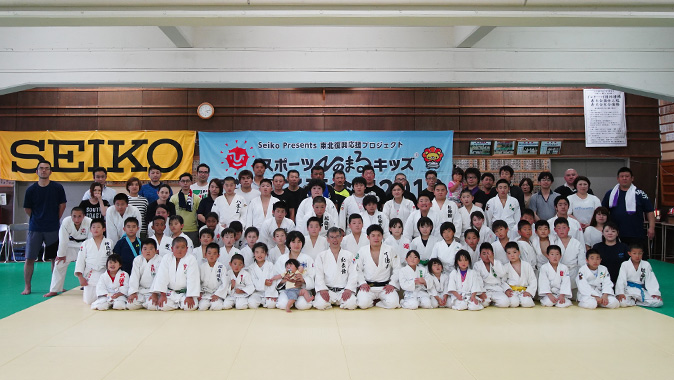 Swimming Day
As part of our social contribution activities, Swimming Day was established for the purpose of providing people with the opportunity to become accustomed to water.
In 2019, the 5th annual Swimming Day was held in Nagoya Prefecture, with a variety of events such as a talk show and swimming instruction clinic for children, featuring former Olympic athletes, as well as diving, water polo, artistic swimming and traditional Japanese swimming demonstrations. At this Seiko-sponsored event, we donated stopwatches to the local swimming federation to contribute to the development of swimming in the region.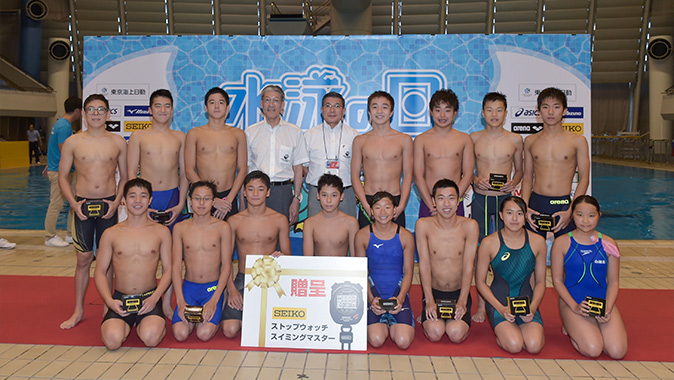 Overseas social contribution activities
Overseas subsidiaries and distributors of Group companies are contributing to the vitalization of local communities by participating in locally based charity and volunteer activities.
300 clocks donated to elementary schools in Laos
To overcome poverty and build a foundation for modernization, Laos is putting a tremendous effort into education. To support this effort, the Japan International Cooperation Agency is cooperating in the creation of arithmetic textbooks. Although the textbooks include the topic of reading the time, many schools do not have clocks. For this reason, Seiko has donated 300 wall clocks to be put in classrooms. These clocks have now been placed in schools, where they are already helping with children's education.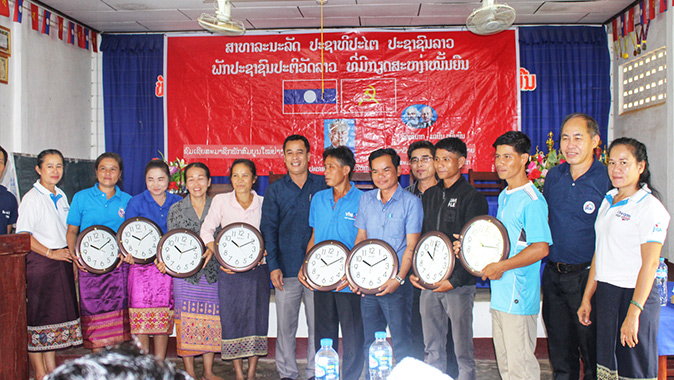 Blood donation in Malaysia
In Malaysia, as part of Safety and Health Month activities carried out by Instruments Technology (Johor) Sdn. Bhd, (Seiko Instruments'subsidiary) employees have been donating blood to the local national hospital since 2014. In 18, 217 employees joined this action.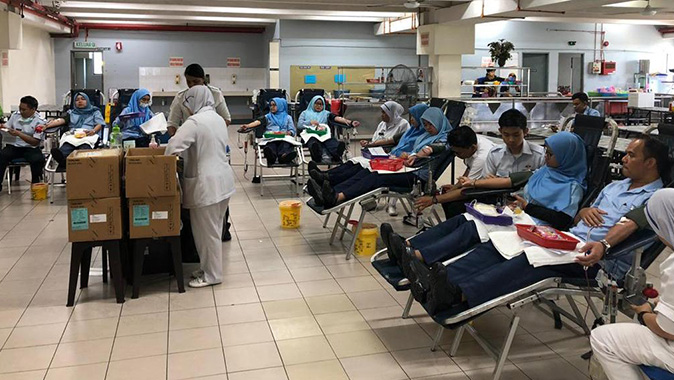 Wear a Christmas jumper for a good cause
Every year in December the UK holds an event called Christmas Jumper Day in which employees or school children wear a Christmas jumper instead of their usual business attire or uniform and raise funds from the people around them. The funds raised are donated to the Save the Children charity, an organization aiming to protect the rights of children and keep them safe. Seiko supports the participation of its employees in the event and sends donations as well.
Technical promotion and research guidance through joint development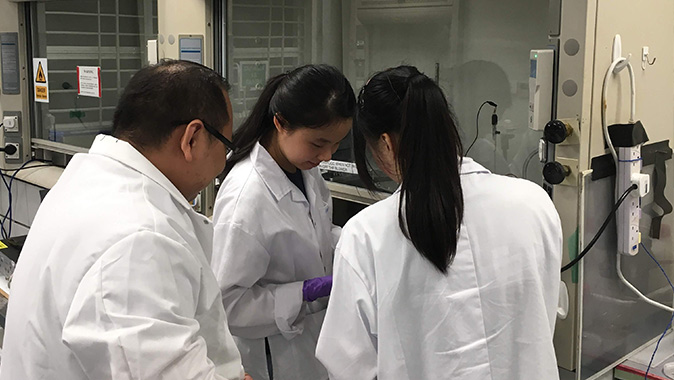 In Singapore, Seiko Instruments Singapore Pte. Ltd., a subsidiary of Seiko Instruments Inc. promotes development in collaboration with national research institutes and universities as a hub for international R&D and also provides research guidance for local students.
Initiatives through music
The Seiko Holdings Group undertakes community support activities through music that deepen bonds with people.
A concert to support eastern Japan in a spirit of "harmony"
Seiko has continuously held concerts every year since just after the disaster in 2011 to support recovery. Based on a desire to provide a place to join hearts and strengthen bonds between people in disaster-affected areas and supporters, Seiko has held concerts to support eastern Japan in a spirit of "harmony" in the three prefectures of Tohoku and in Tokyo since 2013. A number of artists have performed as a way to send their best wishes to people in disaster-affected areas, including late renowned composer Norio Maeda. The concert held in Matsushima City, Miyagi Prefecture, in September 2019 marked the 33rd occasion.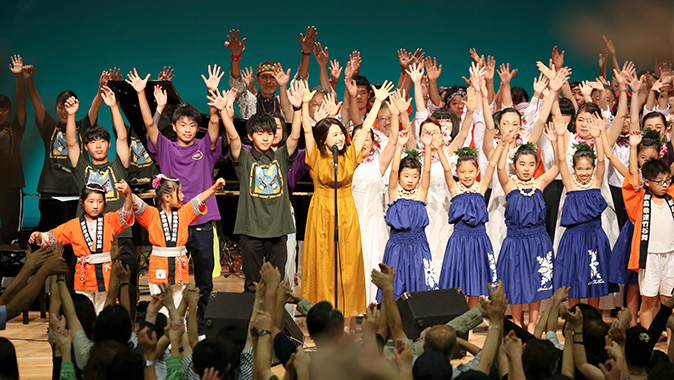 Seiko Summer Jazz Camp
Seiko support young generation aspired to musical careers.
At this event, instructors who are active on the world stage provide talented young Japanese people who want to be jazz musicians with guidance in performance technique, theory and how to enjoy jazz. The fourth camp was held over four days in August 2019. On the last day, an open concert was held to enable the students to demonstrate the results, and the Seiko awards presentation was held. The Most Outstanding Student Award included an admission to a jazz camp to be held in the USA. Some of the alumni debuted already as professionals.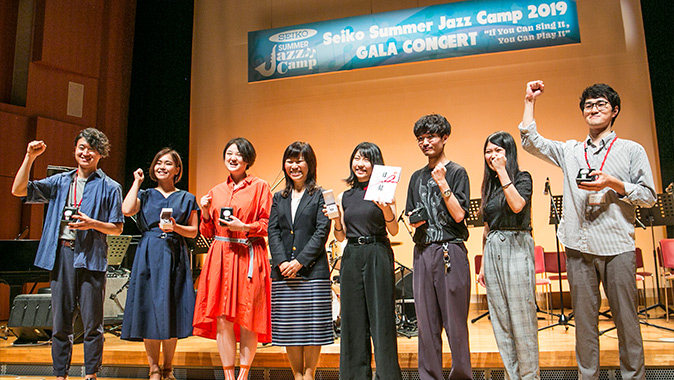 Providing opportunities and venues for learning
The Seiko Holdings Group implements activities to provide opportunities and venues to learn about watches and clocks, as well as for cross-cultural exchange, as a means to contribute to the development of the younger generation.
Seiko Museum - the Place to Learn About Time and Timepieces
Originally named the Seiko Institute of Horology, the Seiko Museum was established in 1981 as part of a 100th anniversary project, with the goal of gathering, preserving, and studying various materials and samples related to "time and timepieces".
In 2012, the facility was renamed the Seiko Museum and underwent full-scale renovation. With over 13,000 yearly visitors from around Japan and the world to date, the museum has become a place of broad appeal that can be enjoyed by adults and children alike, with exhibits covering the evolution of timepieces, traditional Japanese clocks (wadokei), and the history of Seiko and its products, as well as a hands-on area for experiencing sports timing technology.
Since September 2019 the exhibits on the 1st and 2nd floors have undergone a partial renewal. Exhibits covering such topics as the evolution of watches over time and the history of Seiko have now become even easier to understand.
* The museum is temporarily closed. It will be renovated and will reopen in Ginza in July 2020.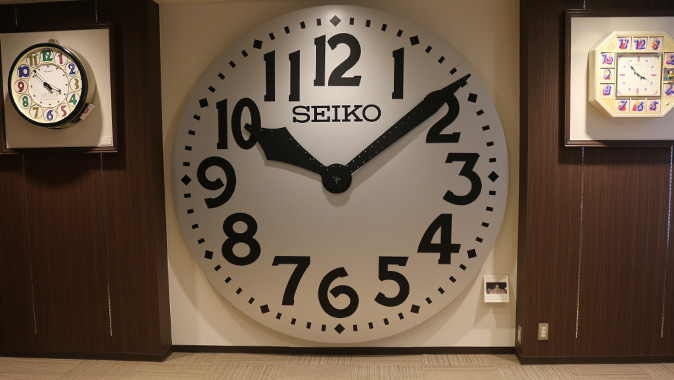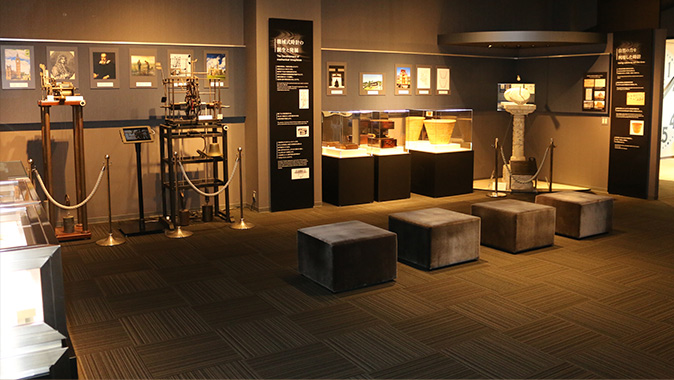 Museum workshops to bring out children's potential
Since 2012, the Seiko Museum has held a variety of workshops both within the museum and at other venues. These include watchmaking workshops for elementary school children and school excursion groups and accessory-making workshops for adults and visitors from overseas. Also, in 2019, we started conducting the Make a One-of-a-kind Clock workshop for preschool children. The children get to draw their own picture on the dial of a wall clock, and then use tools to properly assemble the clock themselves. Through this kind of experience, the children are able to greatly exercise their imagination and creativity. Our primary considerations are what we can do to help children appreciate the joy of thinking together, learning together, and building together, and how we can create an environment in which children can grow to their full potential.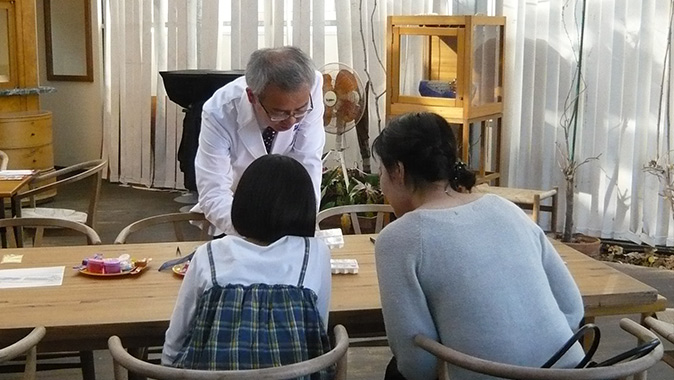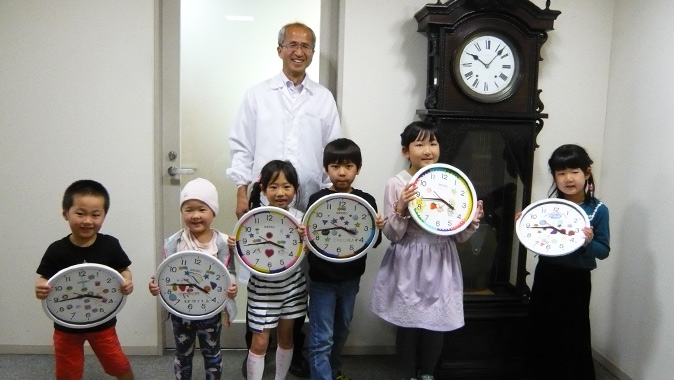 Guidebooks for five museum tours in Sumida
Seiko is creating guidebooks in collaboration with five company museums (Postal Museum Japan, Tobacco & Salt Museum, Kao Museum, Tobu Museum, and The Seiko Museum) in Sumida ward in Tokyo. Besides the must-see points at each museum, the guidebooks introduce recommended circuit courses based on various themes. In this way, Seiko is spreading information about "Historical and Contemporary Life and Culture" from Sumida ward and is working to vitalize the community and promote culture.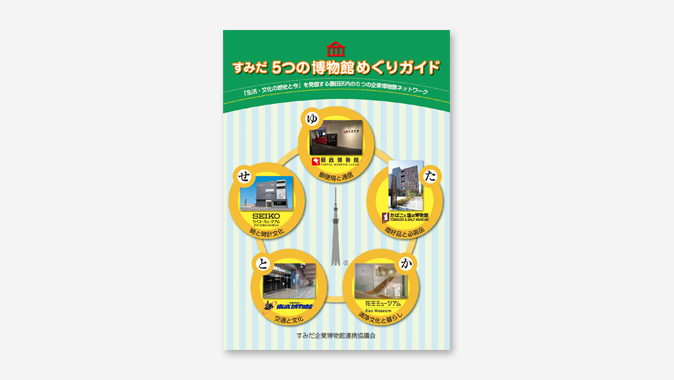 Cultivating a future for children and creating enriched and beautiful "time" together
As an official sponsor of KidZania Tokyo and KidZania Koshien, which are play towns where children can learn how society functions, Seiko Holdings Corporation operates the City Clock Pavilions. These pavilions aim to teach children the meaning and importance of time while they also learn how to make play presentations in front of people by announcing the time together as "marionette clock" performers. In March 2019, at a Stage Performance Contest held at the 10th anniversary ceremony for KidZania Koshien, Seiko presented limited-edition watches engraved with the signature of athlete Ryota Yamagata to the children who gave the best performances in each of five areas, including sports, music, language and study.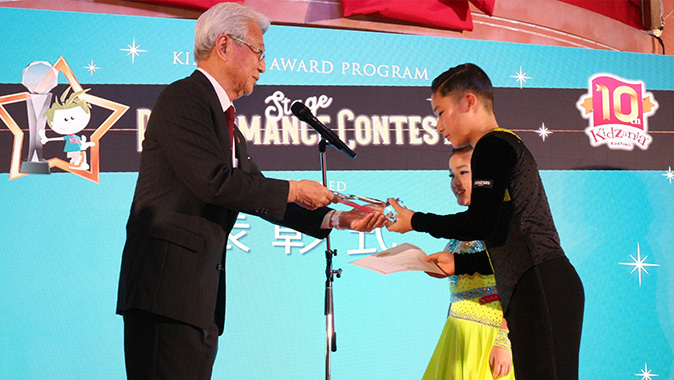 Seiko Exciting Clock School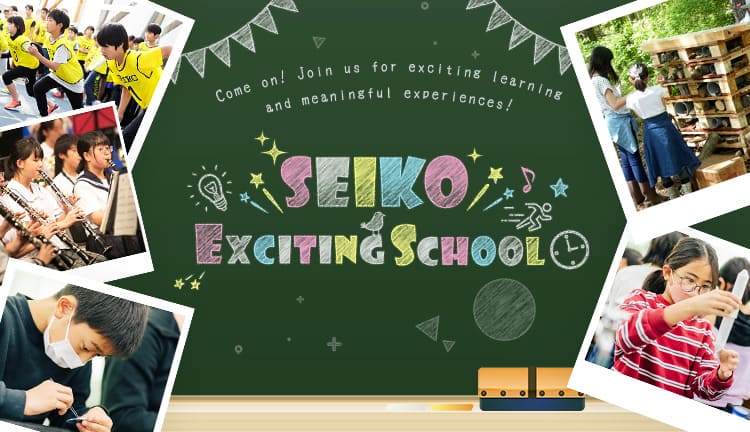 Seiko personnel visit elementary schools to conduct special classes. Through a lecture and workshops, the students can learn about the roles and fascinating aspects of timepieces, and experience the fun of building something.
Creating a society full of kindness
Seiko supports the International Essay Contest for Young People, which is held by UNESCO to foster diversity and creativity among children throughout the world and build a culture of peace and a sustainable global society. This essay contest is one of the Global Action Programs being carried out by UNESCO to contribute to achieving Sustainable Development Goals (SDGs) in the area of education.
The theme for 2019 was "Creating a Society Full of Kindness." There were 20,657 entries from 157 countries.
Seiko awarded watches to the winners from each country and, in particular, invited the two recipients of the Minister of Education Award to the Wako clock tower for a special award presentation ceremony.
Minister of Education Award
(Children's category)
Olutayo Ifedayo Victor (Nigeria) Age 14
Title: Kindness is Free
(Youth category)
Ilia Nikitichev (Russia) Age 22
Title: Kind Souls Make the World a Better Place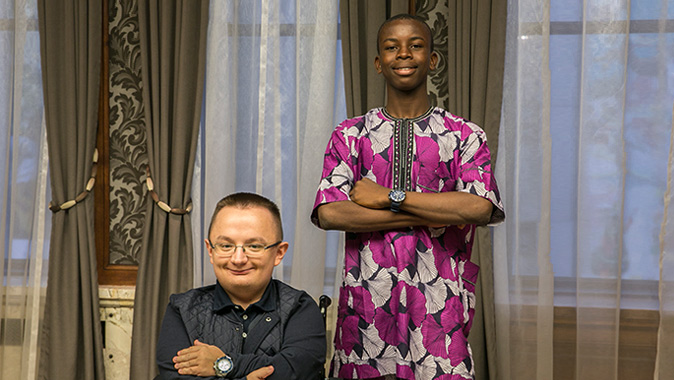 Donation of system clocks to an international school
Seiko donated a pole clock for the playground and wall clocks for the gymnasium and classrooms at International School of Asia, Karuizawa (ISAK), a boarding school for international high school students. The clocks are system clocks with built-in program timer and display the same time everywhere in the school.