The Group is committed to contributing to the communities that host its facilities and to society as a whole.
Timing and sponsorship of sports events
The Tokyo Olympic Games held in 1964 was the first time Seiko served as Official Timer on the international stage. Seiko introduced a comprehensive electronic timing system, a world first that marked the start of the quartz age. To this day, the Company continues to provide support as Official Timer of such sports events as the Tokyo Marathon and Osaka Marathon, which city runners aspire to, and the IAAF World Championships, in which top athletes gather from around the world. In August 2017, Seiko served as Official Timer at the IAAF World Championships London. This marked the 15th consecutive Championship for which Seiko has been the Official Timer. This thrilling competition that spanned 10 days aroused enthusiasm around the world.
The Company also supports other sports events such as swimming and speed skating events by fully utilizing its timing and measurement technology. In every sport and at every event we time, Seiko is at the heart of the action, delivering the precise information on which the excitement and emotion of sports depends.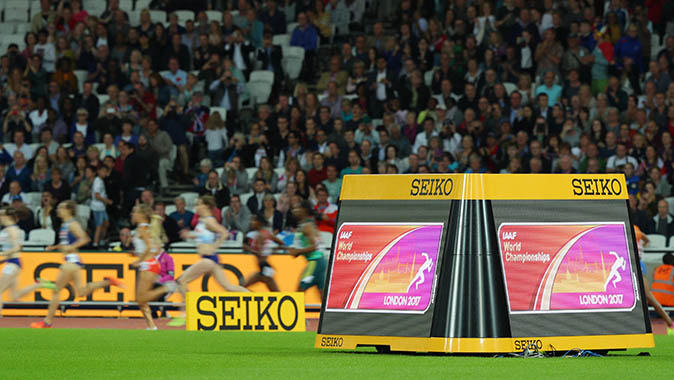 Timing and sponsorship of sports events overseas
The overseas subsidiaries and distributors of the Seiko Holdings Group work to contribute to the vitalization of local communities through sports-related charity events and participation in volunteer activities.
Sports event supporting social rehabilitation of ex-offenders
Seiko has supported the Yellow Ribbon Prison Run held every year inside Changi Prison in Singapore as official sponsor since 2011. The sports event aims to support a social rehabilitation program for ex-offenders and approximately 7,000 regular runners who endorse the cause took part in 2017.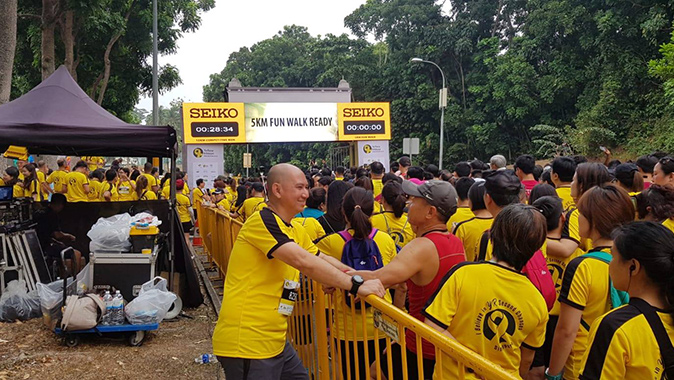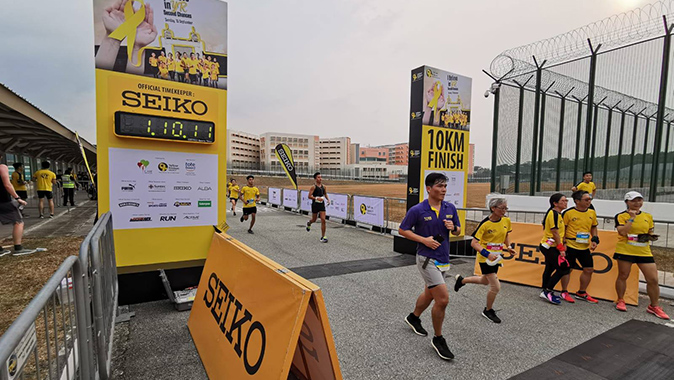 Support for the independence and social participation of persons with intellectual disabilities
Special Olympics is a global sports organization that undertakes sports programs aimed at introducing sports to persons with disabilities and encouraging their independence and participation in society. The numerous events run by Special Olympics provide a great chance for persons with disabilities to demonstrate the results of their training.
The first Special Olympics World Summer Games were held in 1968 and Special Olympics summer and winter games are currently convened once every four years.
Following on from sponsorship of the Special Olympics World Summer Games Los Angeles 2015, Seiko Holdings cooperated as a sponsor of the Special Olympics World Winter Games Austria 2017. Some 3,000 athletes, 1,100 coaches and 3,000 volunteers from 110 countries and regions of the world took part in the event.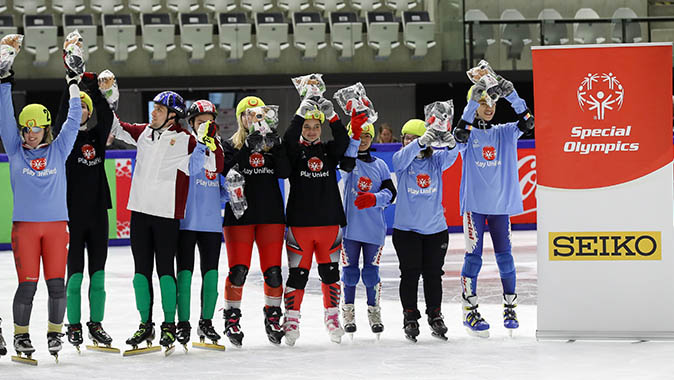 Timing and sponsorship of sports events in Japan
Companies in the Seiko Holdings Group are contributing to the development of children and youth through sports by making the most of the characteristics of respective businesses.
Sports Hinomaru Kids Judo Parent-Child Summer Training Camp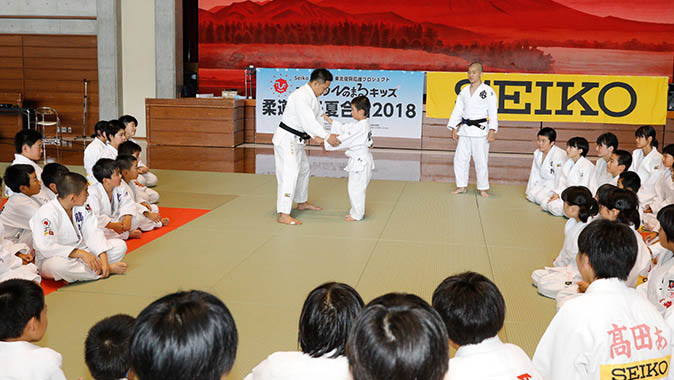 This judo camp is held for parents and children in the Tohoku region every year as an activity to support rehabilitation in disaster-affected areas and strengthen bonds between parents and children. The camp was held in Morioka City in July 2018 and 50 parent/child groups took part. Judo athletes including Olympic medalists really gave it their all in instructing the children during the camp. Seiko, as a special sponsor, donated timer clocks and kids' watches as awards for events held during the camp.
Swimming Day
As part of our social contribution activities, Swimming Day was established for the purpose of providing people with the opportunity to get accustomed to water. This event has been held annually since 2015, and to the present, Seiko has invited participating children and their coaches from earthquake-devastated regions to join bus tours that visited the Wako Clock Tower in Ginza as well as the Seiko Museum.
In 2017, Seiko invited elementary school children from Fukushima Prefecture to the third such event, which was held in Kanazawa city. The children participated in a swimming instruction clinic featuring former Olympic athletes. A variety of other events were also held that included a talk show as well as diving, water polo, synchronized swimming and traditional Japanese swimming demonstrations.
Overseas social contribution activities
Overseas subsidiaries and distributors of Group companies are contributing to the vitalization of local communities by participating in locally based charity and volunteer activities.
Chaipattana foundation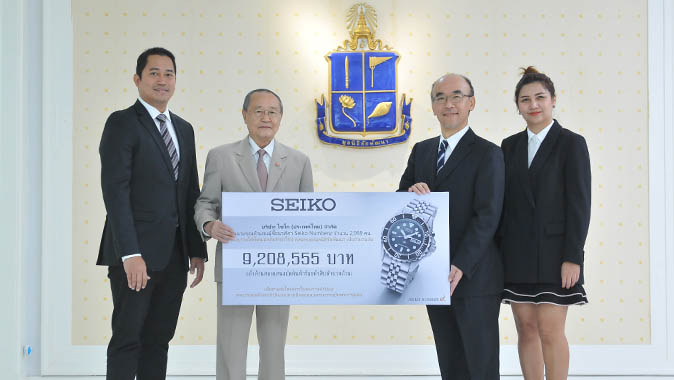 In 2017, after His Majesty King Bhumibol Adulyadej of the Kingdom of Thailand passed away, Seiko (Thailand) Co., Ltd. reissued and sold the King's favorite Seiko watch, which was sought after by numerous people in Thailand, and donated the total profit of 9.2 million Thai baht (approximately 30.9 million yen) to the Chaipattana Foundation established by the King to improve the quality of life for Thai people.
Wear a Christmas jumper for a good cause
Every year in December the UK holds an event called Christmas Jumper Day in which employees or school children wear a Christmas jumper instead of their usual business attire or uniform and raise funds from the people around them. The funds raised are donated to the Save the Children charity, an organization aiming to protect the rights of children and keep them safe. Seiko supports the participation of its employees in the event and sends donations as well.
Technical promotion and research guidance through joint development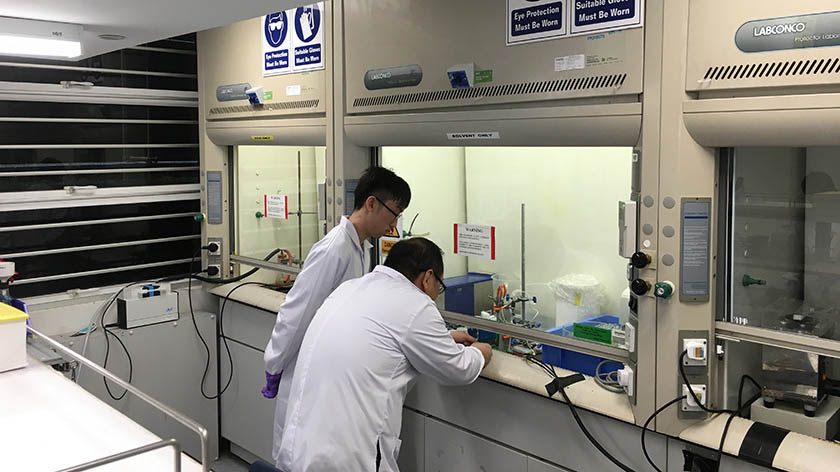 In Singapore, Seiko Instruments Singapore Pte. Ltd., a subsidiary of Seiko Instruments Inc. promotes development in collaboration with national research institutes and universities as a hub for international R&D and also provides research guidance for local students.
Initiatives through music
The Seiko Holdings Group undertakes community support activities through music that deepen bonds with people.
Concerts to support eastern Japan in a spirit of "harmony"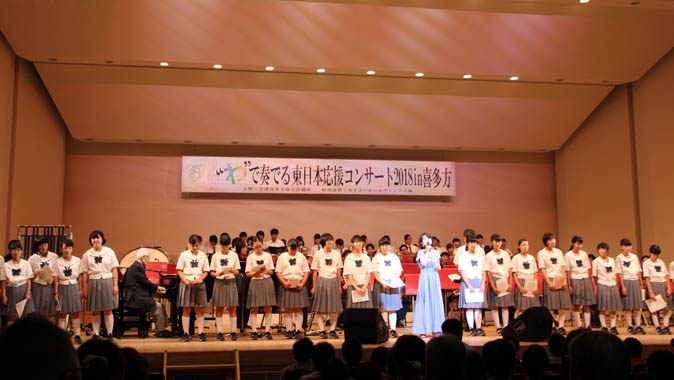 Seiko has continuously held concerts every year since just after the disaster in 2011 to support recovery. Based on a desire to provide a place to join hearts and strengthen bonds between people in disaster-affected areas and supporters, Seiko has held concerts to support eastern Japan in a spirit of "harmony" in the three prefectures of Tohoku and in Tokyo since 2013. A number of artists have performed as a way to send their best wishes to people in disaster-affected areas, including renowned composer Norio Maeda. The concert held in Kitakata City, Fukushima Prefecture, in August 2018 marked the 30th occasion. Kitakata is where the first concert was held and is a city with which Seiko has close ties.
Supporting young musicians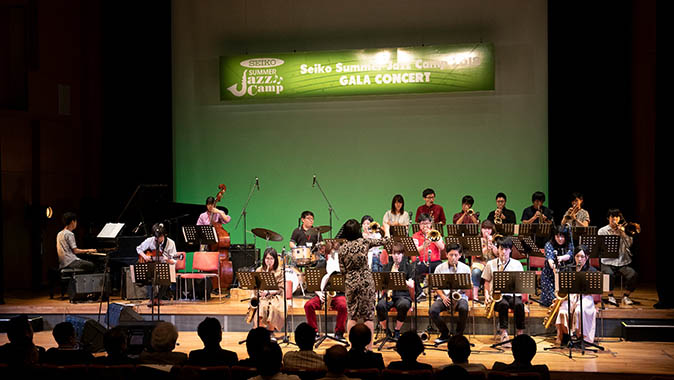 Seiko supports children and young musicians with a love of music. Seiko is a special sponsor of the Seiko Summer Jazz Camp, an event that provides guidance on performing technique, theory and how to have fun to talented youngsters in Japan aspiring to be jazz musicians through instructors who are active on the global stage.
The third camp, held over four days in 2018, welcomed accomplished musicians popular in New York to serve as instructors. A public concert was held on the final day, giving the students a chance to show off what they'd learned. Seiko provided awards to the most outstanding performer as well as three other exceptional musicians. The winners received a wristwatch as an extra prize. Young people have also gone on to debut as professional musicians.
Providing opportunities and venues for learning
The Seiko Holdings Group implements activities to provide opportunities and venues to learn about watches and clocks, as well as for cross-cultural exchange, as a means to contribute to the development of the younger generation.
The Seiko Museum
Since its establishment in 1981, The Seiko Museum has exhibited the history of watches, the history of Japan's watch industry and the history of Seiko. The museum also exhibits various clocks and watches created since Seiko's establishment in 1881 and is attracting more and more visitors every year.
The museum introduced a user-friendly, state-of-the-art device using 3D virtual reality technology in August 10, 2016 to provide a simple explanation of the mechanisms of the three Grand Seiko movements. The exhibit is self-operated and takes the user inside the world of the elaborate and complex movement of a watch, that ensures the ultimate in accuracy, in a fun and engaging way.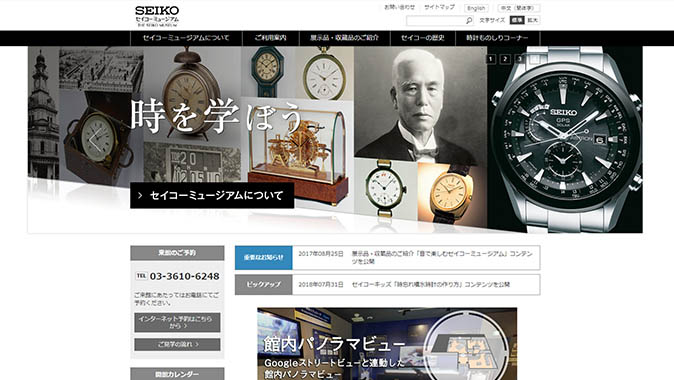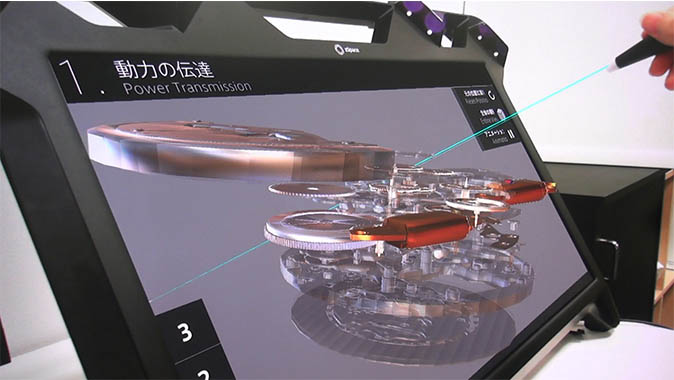 The Seiko Museum workshops
The Seiko Museum has been holding workshops for children every year since 2012 to convey the wonder and importance of manufacturing through actual watchmaking experience.
In addition to workshops for elementary school children held inside the museum, in 2017 workshops were also held for junior and senior high school students and some were held off premises. We also held a workshop for children to make a mini sandglass and origami watch.
Around 4,500 children have taken part since 2012, showing how much the program is growing.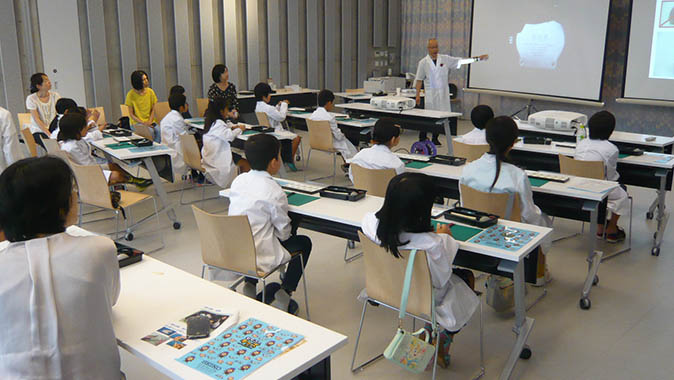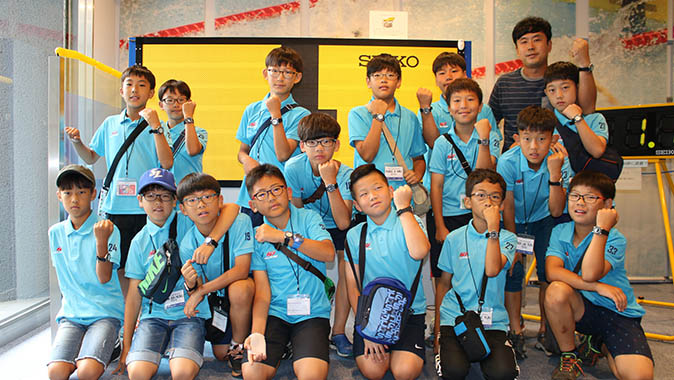 Guidebooks for five museum tours in Sumida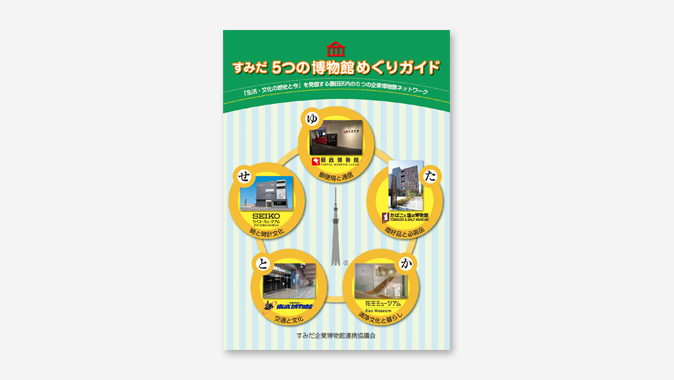 Seiko is creating guidebooks in collaboration with five company museums (Postal Museum Japan, Tobacco & Salt Museum, Kao Museum, Tobu Museum, and The Seiko Museum) in Sumida ward in Tokyo. Besides the must-see points at each museum, the guidebooks introduce recommended circuit courses based on various themes. In this way, Seiko is spreading information about "Historical and Contemporary Life and Culture" from Sumida ward and is working to vitalize the community and promote culture.
Cultivating a future for children and creating enriched and beautiful "time" together
Seiko Holdings Corporation operates the City Clock Pavilion as an official sponsor of KidZania Tokyo and KidZania Koshien, which are cities where children learn how society functions. The City Clock Pavilion aims to teach children the meaning and importance of time while they also learn how to make play presentations in front of people by announcing the time together as "marionette clock" performers.
"Junior Challenge Japan," a special program for junior high school students held in spring 2017, featured upgraded activities using English.
Seiko Exciting Clock School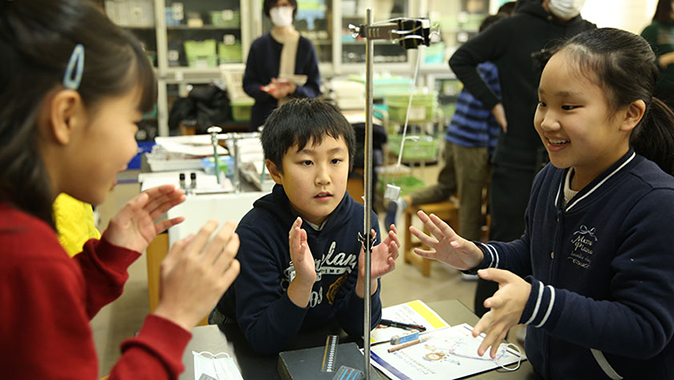 Seiko Exciting Clock School is an activity through which Seiko employees visit elementary schools to communicate to students the fun of time and clocks and to enable children to understand the joy of manufacturing things and the importance of team cooperation. This activity just started at two schools in Sumida ward in Tokyo in 2017 and is being gradually expanded to other communities within Tokyo.
Donation of system clocks to an international school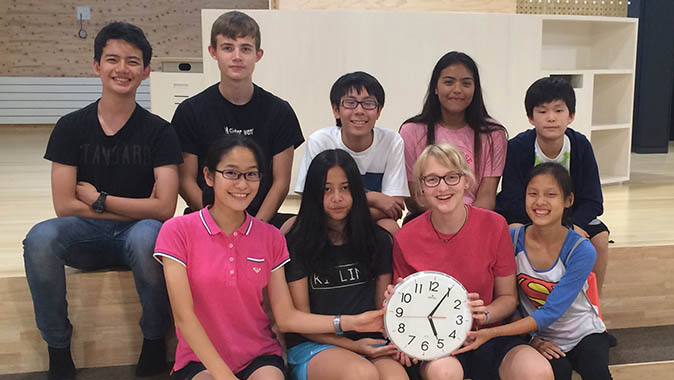 Seiko donated a pole clock for the playground and wall clocks for the gymnasium and classrooms at International School of Asia, Karuizawa (ISAK), a boarding school for international high school students. The clocks are system clocks with built-in program timer and display the same time everywhere in the school.
Sports and music always have the power to touch people's hearts across all generations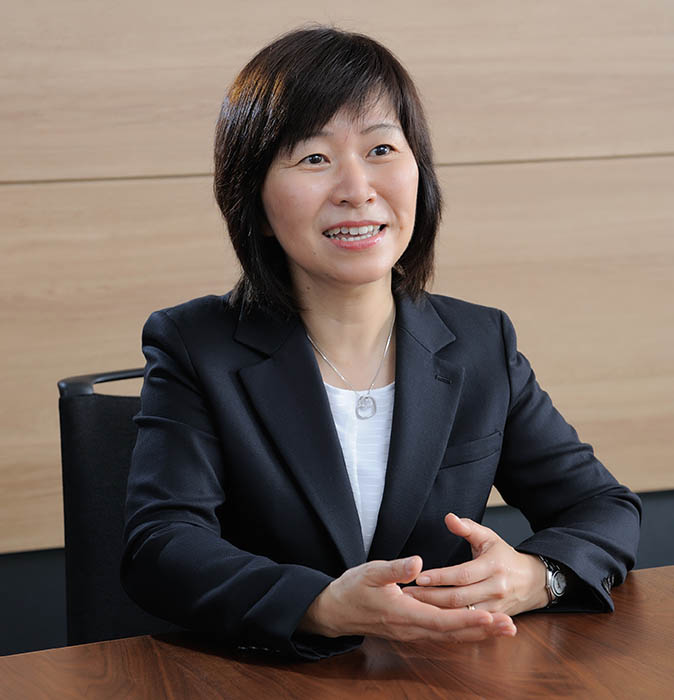 In 2014 Seiko Holdings Corporation formulated the Group slogan: "SEIKO Moving ahead. Touching hearts." Seiko Holdings Corporation is carrying out branding activities through sports and music, which have a deep relationship with time.
In sports, ever since Seiko served as Official Timer at the 1964 Tokyo Olympics, its equipment has measured numerous records at various competitions in Japan and overseas, and thereby helped share memorable excitement with people the world over. In the future as well, Seiko will continue to record the time records set by athletes, who take on the challenge of pursuing their dreams and aiming for new heights, while continuing its activities for sharing excitement with people.
Seiko employee Ryota Yamagata recorded a major achievement that touched the hearts of people through sports by winning a silver medal in the 4 x 100-meter track relay event at the 2016 Olympics. Please look forward to further achievements by Ryota Yamagata in the future as he continues chasing his dream of reaching the 9-second range in the 100-meter sprint.
Meanwhile, in music Seiko carries out corporate branding by presenting Sound Inn "S" TV programs and by sponsoring concerts. Seiko also marked the fourth year of promoting initiatives such as the Seiko Summer Jazz Camp that supports young people who aspire to be world-class jazz musicians.
Seiko also supports the reconstruction of the regions devasted by the Great East Japan Earthquake. As one initiative for connecting victims of this disaster with their supporters, Seiko continued to hold the Concert to support eastern Japan in a spirit of "harmony" for which Seiko Group CEO Shinji Hattori serves as Chairman of the Executive Committee.
Going forward, through music we will share excitement with people and continue activities that color time.