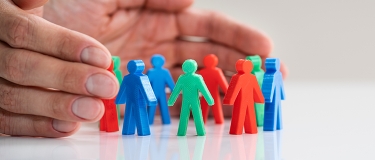 Seiko Holdings Group Human Rights Policy
The Seiko Holdings Group will fulfill its responsibility to respect fundamental human rights in order to create "a future full of smiles," as stated in our Group Purpose, and to realize our Corporate Philosophy of being "a company that is trusted by society."
1.Positioning
This policy is intended to demonstrate the Group's commitment to human rights based on our Group Purpose and Corporate Philosophy.
2.Responsibility to respect human rights
The Seiko Holdings Group is committed to respecting human rights. We will make every effort to ensure that our business activities do not infringe on the rights of others, and if we discover any negative impact from our business, we will immediately take steps to correct that situation. If we find that our suppliers or business partners have caused any infringement of human rights, we will will use the full influence of our Group in order to rectify the situation.
3.Scope of application
This policy shall apply to all officers and employees of the Seiko Holdings Group (all directors, regular employees, and contract employees). Furthermore, the Group will promote respect for human rights throughout its business ecosystem by encouraging all business partners and suppliers to adopt similar policies.
4.Respect for and compliance with norms and laws
The Seiko Holdings Group supports international norms on human rights, including the International Bill of Human Rights (Universal Declaration of Human Rights and International Covenants on Human Rights), the ILO Declaration on Fundamental Principles and Rights at Work, and the Ten Principles of the UN Global Compact. We have established our in-house policy based on the United Nations Guiding Principles on Business and Human Rights. The Seiko Holdings Group will comply with the relevant laws and regulations in each country and region where we conduct business activities. Wherever there is a conflict between internationally recognized human rights and the laws and regulations of a particular country or region, we will pursue ways to ensure that international human rights principles are respected.
5. Human Rights Due Diligence
The Seiko Holdings Group will establish and continuously implement a human rights due diligence system. This includes identifying, preventing, and mitigating any negative impacts on human rights that are related to our business activities, as well as taking corrective measures and disclosing our human rights initiatives to third parties.
6.Correction and remedy
If it becomes clear that the Seiko Holdings Group has caused or contributed to negative impacts on human rights, we will work to correct or remedy such impacts. In addition, if negative impacts are caused by our suppliers or business partners, we will actively work with them to improve the situation and to ensure that they respect human rights going forward.
7.Information disclosure
The Seiko Holdings Group will report on the progress of our efforts to promote respect for human rights on our Website and in other public media.
8.Education
The Seiko Holdings Group will ensure that this commitment is reflected in all relevant policies, guidelines, and other necessary procedures throughout the Group, and will strive to see it firmly established throughout all Group business activities. We will also continue to provide appropriate education and training to all officers and employees.
9.Dialogue and discussion with stakeholders
Under this policy, the Seiko Holdings Group will collaborate with third-party organizations having expertise in human rights to enact a series of initiatives, and will engage in sincere dialogue and consultations with relevant stakeholders.
Established on May 10, 2022
Seiko Holdings Corporation
Chairman & Group CEO , CCO

Shinji Hattori