Mobile Printer
Supporting smart accounting anytime, anywhere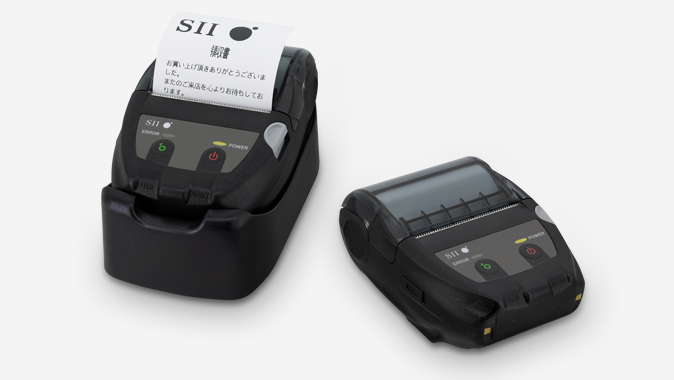 In recent years the use of mobile POS (Point Of Sale) for performing accounting via tablet devices or smartphones has been expanding. The advantage of these systems is that they can easily be implemented by simply installing a dedicated application.
Such mobile POS systems require a miniature printer to print out receipts, etc. Leveraging its position as the world's top seller of miniature thermal printers*, Seiko Instruments Inc. has developed a palm-sized, ultra-small, ultra-lightweight mobile printer.
Besides use in indoor environments, this device can also be used in a variety of locations and circumstances, such as outdoor shops, door-to-door sales, home deliveries, and so on.
By providing such mobile printers, Seiko Instruments Inc. is contributing to the popularization and spread of mobile POS systems that allow smart accounting anytime, anywhere.
*In terms of output of direct thermal type miniature printer mechanisms.
According to Chunichisha Co., Ltd.
High-sensitivity Optical Sensor IC
Supporting security and comfort in life with banknote-detecting technology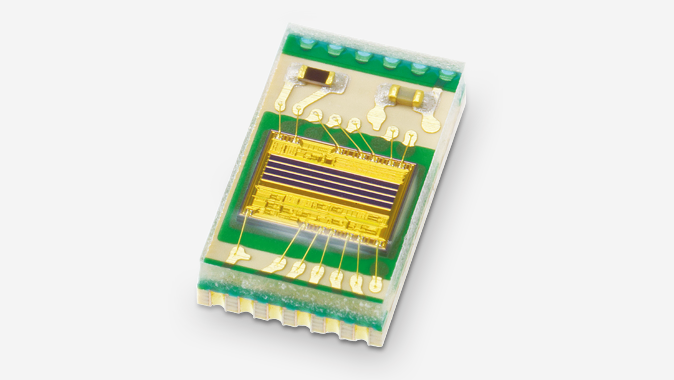 With the diversification of financial services accompanying the development of the global economy, and the expansion of distribution and the leisure market, there is a demand for advanced technology that can identify banknotes.
This type of technology uses sensors that can accurately identify minute, subtle changes that cannot be caught with the human eye.
Seiko NPC Corporation has developed the high-sensitivity optical sensor IC SM3320AGA, capable of identifying, measuring, and detecting different types of banknotes from various angles and distinguishing genuine notes from fakes. In addition to being capable of highly accurate authenticity determination using a wide range of light wavelengths, from ultraviolet to infrared, by expanding the detection area, it is capable of adaptation to a wide range of optical detection systems.
Working under the theme of "detecting heretofore imperceptible signals," Seiko NPC Corporation is supporting security and comfort in life by developing sensor-related products with features designed to meet market demands.
Credit Card Payment Service
Responding to measures for preventing credit card information leaks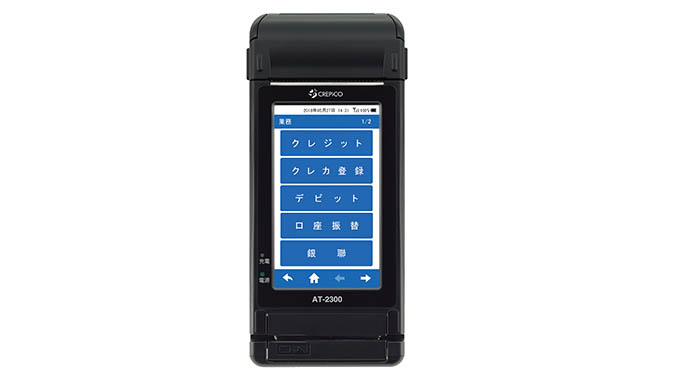 According to the revised Installment Sales Law enacted in June 2018, credit card member stores are required, as a measure for preventing credit card information leaks, to practice either the non-holding of card information or comply with PCI DSS.*1)
Compliance with PCI DSS, which would require great effort, cost, and expertise, is impractical for operators of member stores.
To implement non-holding of card information, many card-member stores are trying "external-loop connections" at the payment terminal.
Using its achievements and experience gained through development of Japan's first wireless credit card payment system, CREPiCO, Seiko Solutions Inc. launched the new mobile payment terminal AT-2300 in November 2018.
Moreover, the company was designated as a PCI P2PE*2) solution provider in June 2018, and now provides methods for ensuring the non-holding of card information by implementing encryption between payment terminals and the center, and supports measures for preventing information leaks in ways that meet customers' needs.
*1) Abbreviation for Payment Card Industry Data Security Standard. One of the international standards establishing the security criteria expected of business persons for the safe handling of credit card information.
*2) Abbreviation for Payment Card Industry Point to Point Encryption. A mechanism equivalent to non-holding of credit card information that protects the information through encryption and decryption via a fixed connection between the payment terminal and the center.