The Group believes that the realization of a workplace environment in which each and every employee is able to work with peace of mind not only fulfills our social responsibilities but also contributes to the sustainable enhancement of corporate performance.
Supporting the development of employees' abilities
The Seiko Holdings Group works to provide equal employment opportunities in keeping with the concept of gender equality and nurtures human resources who support the capacity development of employees. In addition, we are striving to reform working styles with an awareness of time with the aim of creating a working environment that enables diverse working styles for each and every employee.
From promoting the active role of women to promoting the active role of all employees
The Seiko Holdings Group has been promoting the active role of women as a key theme of its human resources activities since 2013. In 2014, we established the Committee for Promoting the Role of Women comprised of management from each Group company and the Enhancement of Women Project comprised mainly of people in charge of personnel and female employees from each Group company, as organizations that straddle the entire Group. These two organizations work together to promote awareness-raising and public relation activities regarding the role of women, which includes holding lectures and training sessions and disseminating information from a dedicated site set up for the Group. As a result, the ratio of female managers of the entire Group, which was 5.3% as of April 2013, rose to 10.9% as of April 2018.
The Group has been expanding its activities from promoting the role of women to promoting the role of all employees since fiscal 2017, and has been working to create an environment in which all employees can play an active role while sharing information and exchanging opinions throughout the entire Group.
Initiatives toward Work Style Reform
To realize a good work-life balance, Seiko believes it is necessary to reform working styles with an awareness of efficiency, which includes making workloads more equal and reconsidering the format of meetings. The Seiko Holdings Group is taking steps to create a working environment with an awareness of time. This includes reducing overtime work, fully enforcing the in-advance application for overtime work and visualizing the time for leaving the office. We are also working to improve the labor environment from an institutional point of view, including introducing and revising systems such as a flex-time system for employees also engaged in child care and nursing care. In addition, we are providing information by holding seminars and lectures such as nursing care for employees who work with time constraints to support their work-life balance. We aim to encourage employees to change their way of thinking with this activity.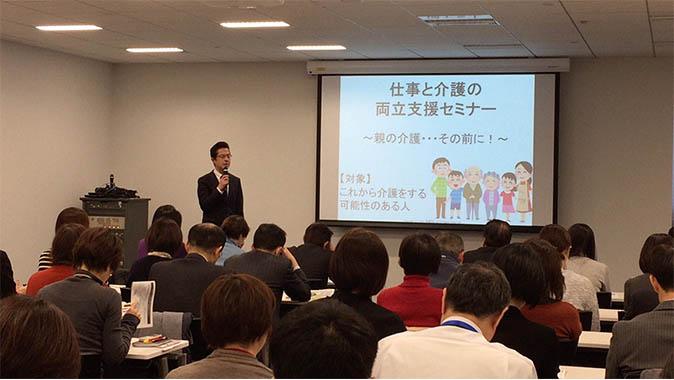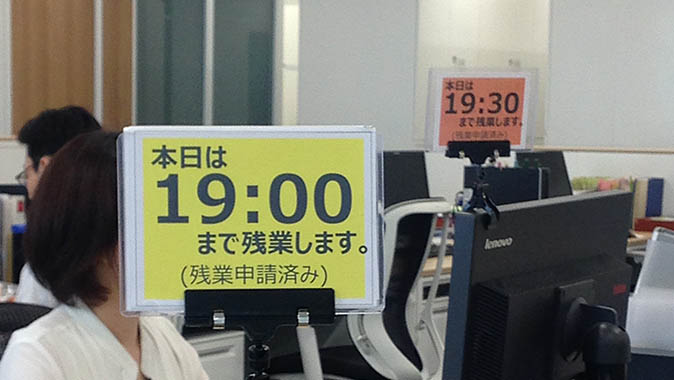 Training systems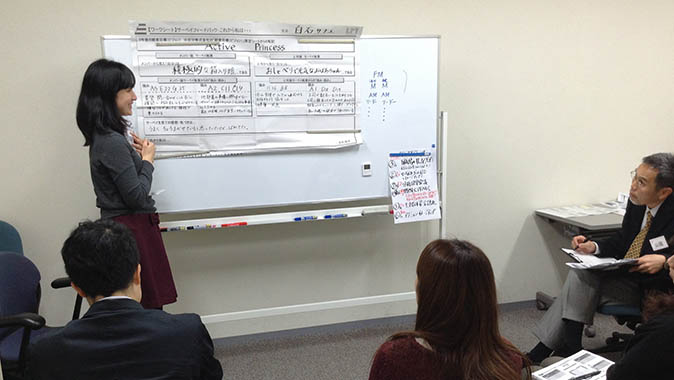 The Seiko Holdings Group provides its employees with a range of opportunities to improve their skills and increase their motivation by implementing training based on themes, such as the development of global human resources and the development of candidates for management executives, in addition to job level training (training for new employees, follow-up training for new employees, step-up training for young employees and training for management-level employees).
We also offer support to enable employees to work on their career development proactively by providing career design training for the purpose of encouraging them to select a career stage in a broad context in anticipation of prolonging their professional life and diversifying their career options.
Developing global human resources and fostering core human resources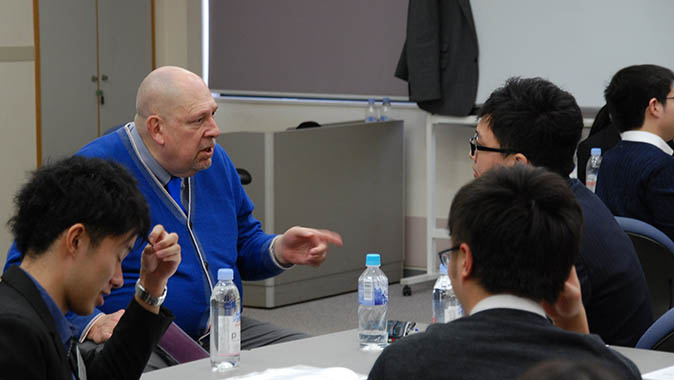 Of the various types of training, the Seiko Holdings Group pays particular attention to the development of global human resources for a new generation of staff on whose future the company will rely.
Since fiscal 2015, we have been providing English Speaker mindset training to enhance employees' understanding of differences in culture and value between Japan and overseas, overcome their aversion to speaking English and dealing with foreigners and improve their motivation to learn English as part of the follow-up training for new employees one year after entering the company. In fiscal 2018, we began holding English conversation group lessons for young to mid-level employees and numerous employees are attending these classes. Meanwhile, for developing core human resources, in fiscal 2012 we began sending employees to outside business schools and more than 100 employees have already attended courses at these schools.
Evaluation system for employee contribution
Seiko Holdings Corporation and our affiliates make use of an award presentation system according to business type and categories as a means of recognizing employees' contributions to results, inventions and long years of service.
Support of child-rearing
Parental leave and parental shortened working hours
The Group is making efforts to ensure a good balance between work and childcare for employees eligible for parental leave. We offer a program of reduced working hours in line with the Child Care and Family Care Leave Law. We are striving to create a pleasant environment in which employees can work with peace of mind and to their full potential.
Usage of System for Childcare Leave and Shortened Working Hours for Childcare (Principal subsidiaries in Japan)
FY2012
FY2013
FY2014
FY2015
FY2016
FY2017
Childcare leave
77 persons
66 persons
75 persons
87 persons
74 persons
100 persons
Shortened Working Hours for Childcare
101 persons
99 persons
100 persons
112 persons
115 persons
112 persons
Personnel system based on development support action plan supporting the next generation
Based on Japan's revised Law on the Promotion of Measures to Support Development of the Next Generation, Seiko Holdings Corporation is promoting measures and setting targets to be achieved by 2020, thereby creating an environment in which children who will lead the next generation are born and grow up in a healthy manner.
| | Action plan for supporting the development of the next generation (by 2020) |
| --- | --- |
| Goal 1 | Reduce to 5% or under the percentage of workers who work an average of 60 or more hours per week in the one year immediately preceding the finish of the plan's implementation period. |
| Goal 2 | Strive for a 10% increase in the average number of annual paid holidays taken off per person compared with FY2015 during the one year immediately preceding the finish of the plan's implementation period. |
| Goal 3 | To promote active roles for women, continuously implement career advancement training for women and management training for developing the abilities of female employees. |
Safe, pleasant work environment
Safety and health management
Seiko Holdings Corporation fully implements the safety and health management regulations specified in the Labor Standards Act, Industrial Safety and Health Act and other legal provisions relating to safety and health. We aim to ensure the safety and health of employees through such means as appointing health supervisors and industrial physicians as persons in charge of overall safety and health, providing periodic health checks and establishing the Safety and Health Committee. Based on the "periodic medical examination" under the Industrial Safety and Health Act and "designated checkup and health guidance" required for health insurance associations in fiscal 2008, we expanded the examination items, thereby extending the scope of our periodic medical checks beyond legal compliance.
Promoting mental health measures
We are promoting the following concrete initiatives relating to mental health measures in accordance with the Guidelines for Promoting Mental Health Care in Enterprises issued by the Ministry of Health, Labour and Welfare in August 2000 and in response to the shift to mandatory stress check tests following revisions to the Industrial Safety and Health Act in December 2015.
| | Principal measures relating to mental health |
| --- | --- |
| 1 | Self care (employee stress check test, etc.) |
| 2 | Employee care (management training, etc.) |
| 3 | Care from internal health workers (specialized care from industrial physician, etc.) |
| 4 | Care from a specialized institution outside the Company (establishment of an external consultation desk) |
Family care leave and shortened work hours for family care
Seiko Holdings is establishing systems that surpass statutory requirements for family care leave and for shortened work hours for family care.
Family care leave
Leave period of a total of 365 days per person for the subject family.
Shortened work hours for family care
The applicable period shall be up to three years from the start of usage.
Employees can choose from among prescribed work patterns, with working hours reduced by either 90 minutes or 150 minutes.
In addition to the above, Seiko Holdings has introduced family care flextime working hours.
Employing individuals with disabilities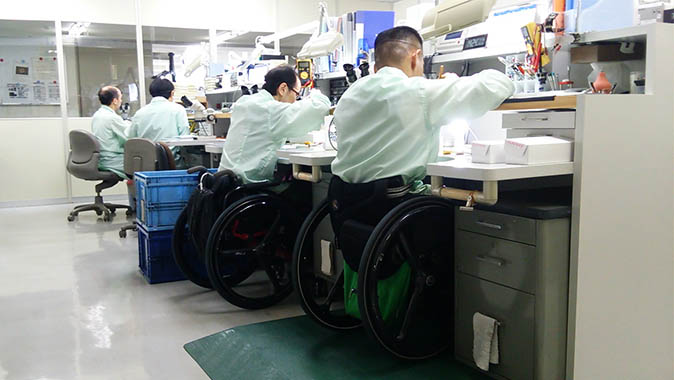 The Seiko Holdings Group actively promotes the employment of individuals with disabilities. The employment rate of persons with disabilities as of June 1, 2018 at a total of eight companies including Seiko Holdings Corporation and operating companies that have received group application of certification through the special subsidiary system was 2.23%, which exceeds the legal employment rate for persons with disabilities.
Vitalization of senior human resources
The revised Act on Stabilization of Employment of Elderly Persons was enacted in April 2013 and, in principle, all persons wishing to work will be offered continuous employment (by the Company) until the age of 65. The Seiko Holdings Group is striving to energize our senior staff members with initiatives that encourage them to change their mindsets and recognize that they are "trusted key personnel" that the Company needs and who can leverage their vital capabilities in terms of accumulated knowledge, personal connections and specialized skills. With the aims of enhancing recognition of their new role in nurturing younger personnel and boosting motivation, we have started conducting age-based career design seminars.