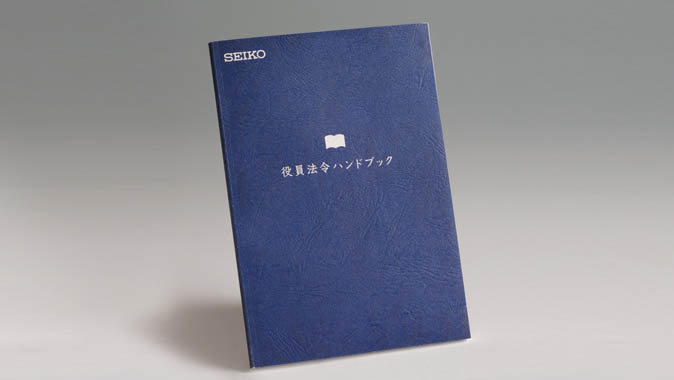 Seiko Holdings Corporation regards maintaining and implementing a business ethics and compliance structure as a crucial management issue and therefore implements business ethics training for all executives and employees.
We distribute the Law Handbook to executives, including those of operating companies, which contains information about their authority and obligations for the purpose of avoiding legal risk and undertaking proper management. We also provide them with compliance-related training once a year on such areas as risk of corruption.
In addition, we provide training on corporate ethics to employees twice a year that includes training on harassment and e-learning so they can gain fundamental knowledge on information security.
Moreover, the Internal Audit Office implements regular audits to confirm that we are maintaining and implementing the compliance structure.
The audit of the internal control system targets nine main Group companies, including the Company, as prescribed by the Companies Act and confirms basic policies on compliance, the formulation and publicizing of the code of conduct, and the status of establishment (building and operation) of risk management structures.
We adhere closely to the J-SOX rules concerning internal control over financial reporting and we confirm the financial reporting process and business operations process for the preparation of appropriate financial statements with the internal control system.
In addition, we carry out personal information protection audits, insider trading prevention management-related audits and other audits as we make efforts to ensure full internal control across a broad range of our activities.
Regular Meetings for Legal Affairs & Legal Seminars
Not only has Seiko Holdings Group created a place for the employees in charge of legal affairs at each company to regularly share information, Seiko Holdings Corporation also holds individual meetings with each company every month, to create an environment where it is easy to conduct legal consultation. We also actively hold various legal seminars according to requests brought up in such meetings and exchanges. In FY2017 we held Japanese and English contract seminars customized for business firms and trademark seminars for overseas representatives. We are also strengthening legal risk support for our overseas branches.