December 16, 2021
Seiko Holdings Corporation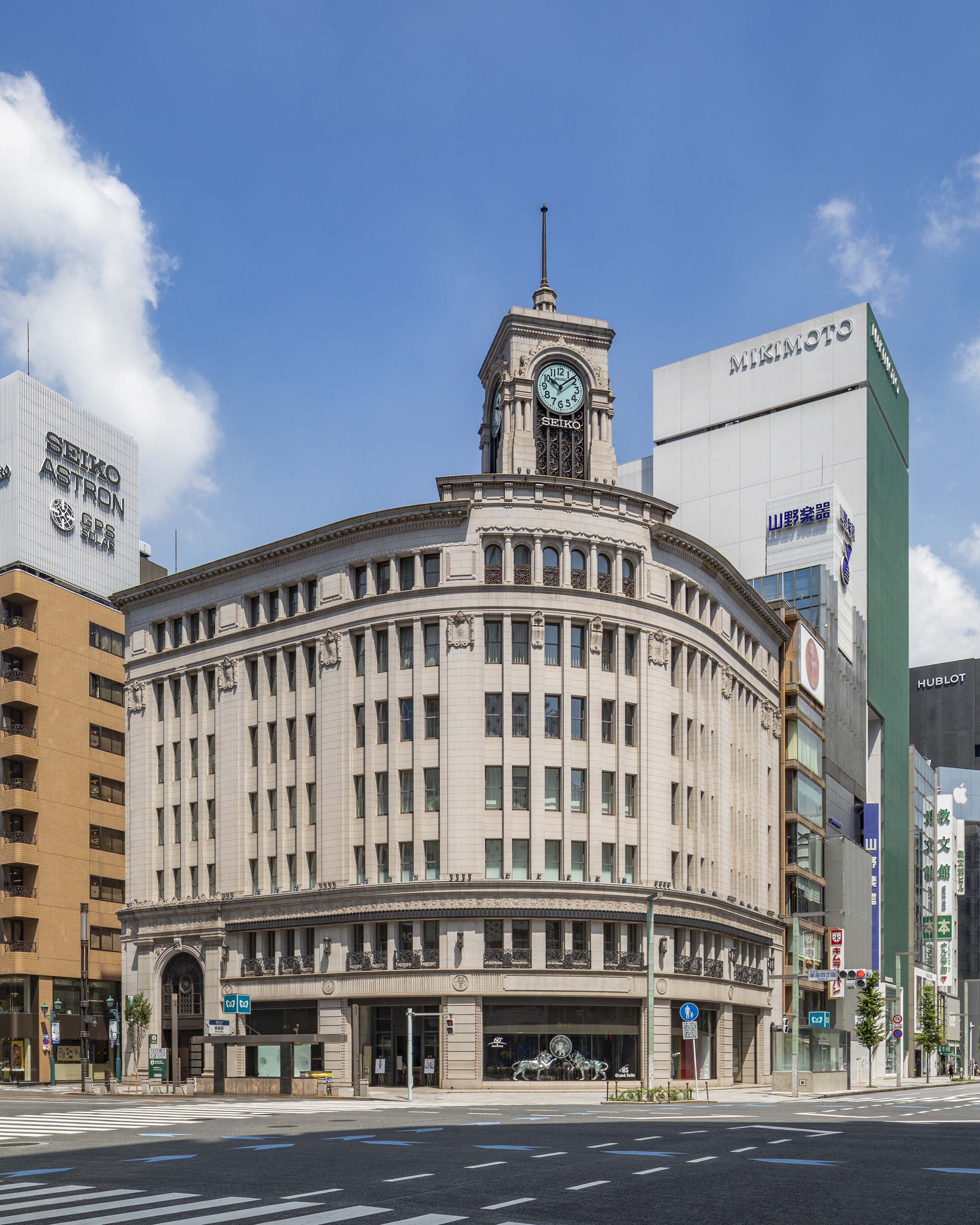 Seiko Holdings Corporation (Chairman & Group CEO, CCO: Shinji Hattori; head office: Chuo-ku, Tokyo, Japan; hereinafter "Seiko") is pleased to announce that it will redevelop its building located at the main Ginza 4-chome intersection, which is well known as the site of the famous Wako* specialty store. During 2022, Seiko will remodel the upper three floors and rooftop area of this building, while the bottom five floors (from the first basement to the fourth floor) will continue to operate as the Wako store. The entire structure will be renamed SEIKO HOUSE GINZA.
Despite being located in one of the most historically significant buildings in Ginza, the upper floors had been used only on a limited basis. Going forward, Seiko plans to actively use this floor space as well as the rooftop area, which includes the iconic Clock Tower, as a base to provide more direct communication with its customers and other stakeholders. The rooftop will be substantially remodeled, and a new digital studio will be built to help facilitate communication about Seiko's brands, its SDG-related activities, and other relevant content.
The renovated building is scheduled to open on June 10, 2022, which is the 90th anniversary of the Clock Tower's completion and is also known in Japan as Time Memorial Day.
SEIKO HOUSE GINZA Floor Plan
B1- 4th Floor - Wako Store (as before)

Major areas to be redeveloped (Floor names are tentative)

・5th Floor: Guest Lounge
The original President's Office and adjoining conference room from Kintaro's time will remain on the 5th floor. Facilities will now be added to provide digital broadcasts to both domestic and overseas audiences for Webinars and other events. This space will also be used for special receptions and presentations.

・6th Floor: Seiko House Ginza Hall
The current Wako Hall will be remodeled so that it can handle a variety of content, including exhibitions related to the Group's business. Under its new name, it will also provide a space for co-creation with well-known artists.

・7th Floor: Workshop
The top floor will be renovated to create a workshop where visitors can experience expert Japanese craftsmanship. There will also be a space to display Seiko's latest products.

・Rooftop: Sky Garden
The Sky Garden will have a wooden deck made of earth-friendly materials and decorated with plantings. It will be a place where visitors can relax and experience life in the heart of Ginza.
Background
Seiko's predecessor, the K. Hattori Clock Store, opened its doors on this corner lot in Ginza 4-chome back in 1894. At that time, founder Kintaro Hattori insisted on installing a clock tower on the roof of the building to serve as a reference for people in the Ginza area. Later, as a symbol of reconstruction after the Great Kanto Earthquake, a new building was erected on this site and a second clock tower was built. It was completed in 1932, and since then has been a familiar landmark in Ginza. On the occasion of this clock tower's 90th anniversary, Seiko wants to take advantage of the legacy of this site, which is the origin of the company, and use it to tell the world about the spirit of Japanese manufacturing and the precision of Japanese craftsmanship.
SEIKO HOUSE GINZA Special Site URL (Japanese)
* Wako Co., Ltd.: A wholly owned subsidiary of Seiko Holdings Corporation
Press Contact:
Seiko Holdings Corporation
Corporate Branding Department