March 18, 2021
Seiko Holdings Corporation
ACCESS Co., Ltd.
Sakai Silk Screen Co., Ltd.
PLAYWORKS Inc.
On the occasion of Tactile Paving Day,*2 ACCESS Co., Ltd. (President & CEO: Kiyoyasu Oishi; head office: Chiyoda-ku, Tokyo, Japan; hereinafter "ACCESS"), Seiko Holdings Corporation (Chairman & Group CEO, CCO: Shinji Hattori; head office: Chuo-ku, Tokyo, Japan; hereinafter "Seiko"), Sakai Silk Screen Co., Ltd. (President: Shoji Taniguchi; head office: Yoshida-gun, Fukui Prefecture, Japan; hereinafter "Sakai Silk Screen"), and PLAYWORKS Inc. (President: Keita Takizawa; head office: Fujimi, Saitama Prefecture, Japan; hereinafter "PLAYWORKS") are pleased to announce the joint development of the world's first*1 "thin tactile paving block with built-in solar beacon" and commencement of provision and field testing of a prototype for railways, airports, and public facilities, etc. by ACCESS.

The "thin tactile paving block with built-in solar beacon" is the world's first product to feature a solar-powered Bluetooth® Low Energy (BLE) beacon installed in a thin tactile paving block for installation on walking surfaces to safely guide the visually impaired. By installing this tactile paving in and around places such as train stations and airports, it is possible to provide directions and facility guidance to the visually impaired via the transmission of BLE radio signals to their smartphones. If the user is wearing earphones connected to their smartphone, they can receive audio guidance and other information without having to take their smartphone out of their bag or pocket.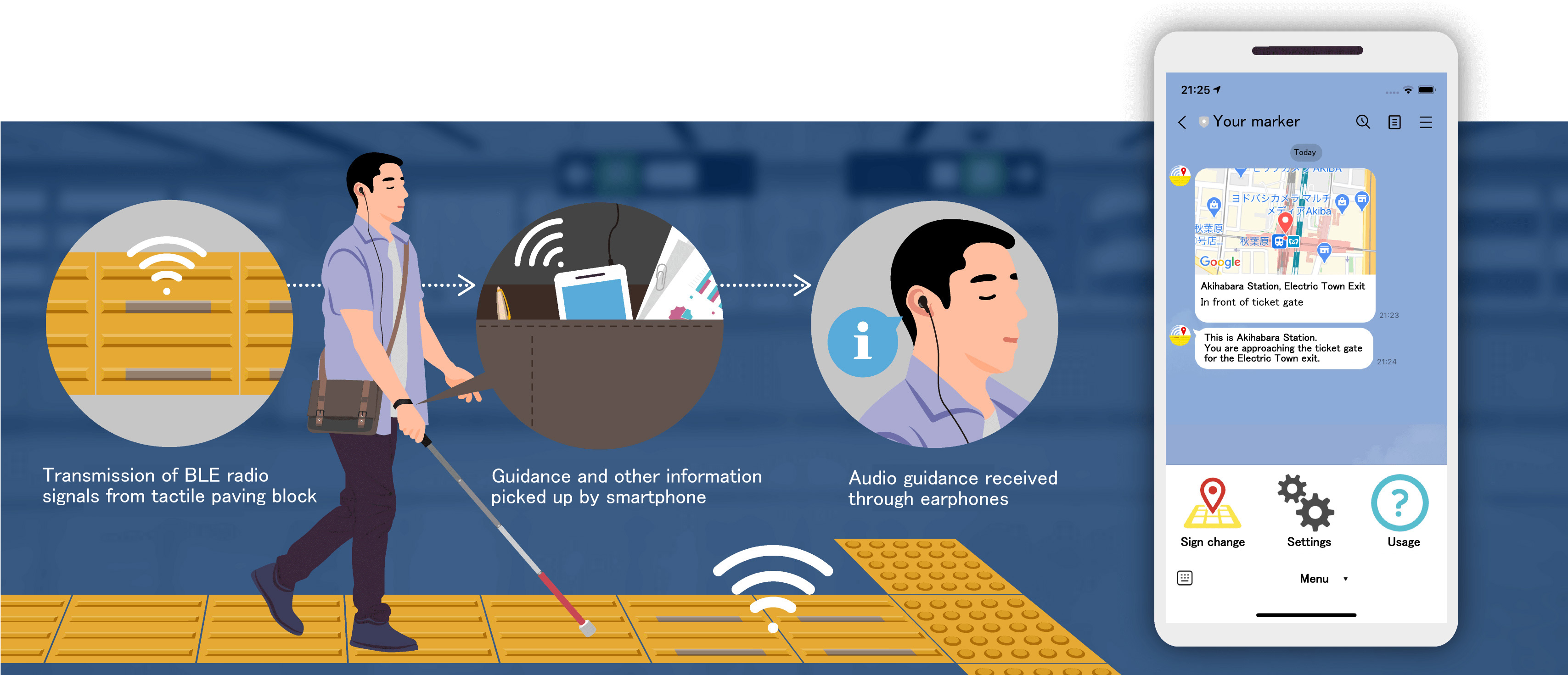 This tactile paving block is a sheet-type paving block made using weatherproof polyurethane that is very thin, having a thickness of just 7 mm (protrusion height: 5 mm; sheet thickness: 2 mm) even while having a solar-powered beacon installed. With an adhesive aluminum sheet on the back, it can be easily affixed to any flooring material. It can also be used to easily replace existing tactile paving. Because of its use of highly efficient photovoltaic ("solar") power and power-saving control technology, it can operate sufficiently under light with a brightness of indoor lighting and does not require maintenance such as battery replacement. Moreover, because any type of characters/symbols can be printed onto the tactile paving, it can also be used to provide visual guidance for the non-visually impaired. This truly is the ideal product for urban development in the age of SDGs with the aim of achieving a sustainable, diverse, and inclusive society.

The structure of the tactile paving block incorporates a small, low-power-consumption BLE transmission module and solar panel developed by Seiko Holdings Group into Sakai Silk Screen's thin special sheet. (Patent application has been made.) In addition, the development of a smartphone app that provides guidance and other information for the visually impaired has been achieved by combining ACCESS' software development capabilities with PLAYWORKS' comprehension of the issues and needs of the visually impaired, as well as their service design capabilities. Business and sales promotion and implementation support related to the beacon will be overseen by ACCESS.

Together, ACCESS, Seiko, Sakai Silk Screen, and PLAYWORKS are supporting the development and provision of services to help businesses that build social infrastructure, such as railways and airports, to achieve the United Nations' SDGs.
*1: First to combine a solar-powered beacon and thin tactile paving block. (According to investigations by Seiko and Sakai Silk Screen, as of March 18, 2021.)
*2: Commemoration of the laying of the world's first tactile pavement at a crossing near the Okayama School for the Blind on March 18, 1967. Established as a commemorative day by the Okayama Society for the Visually Impaired.
Use Case: Facility guidance at a train station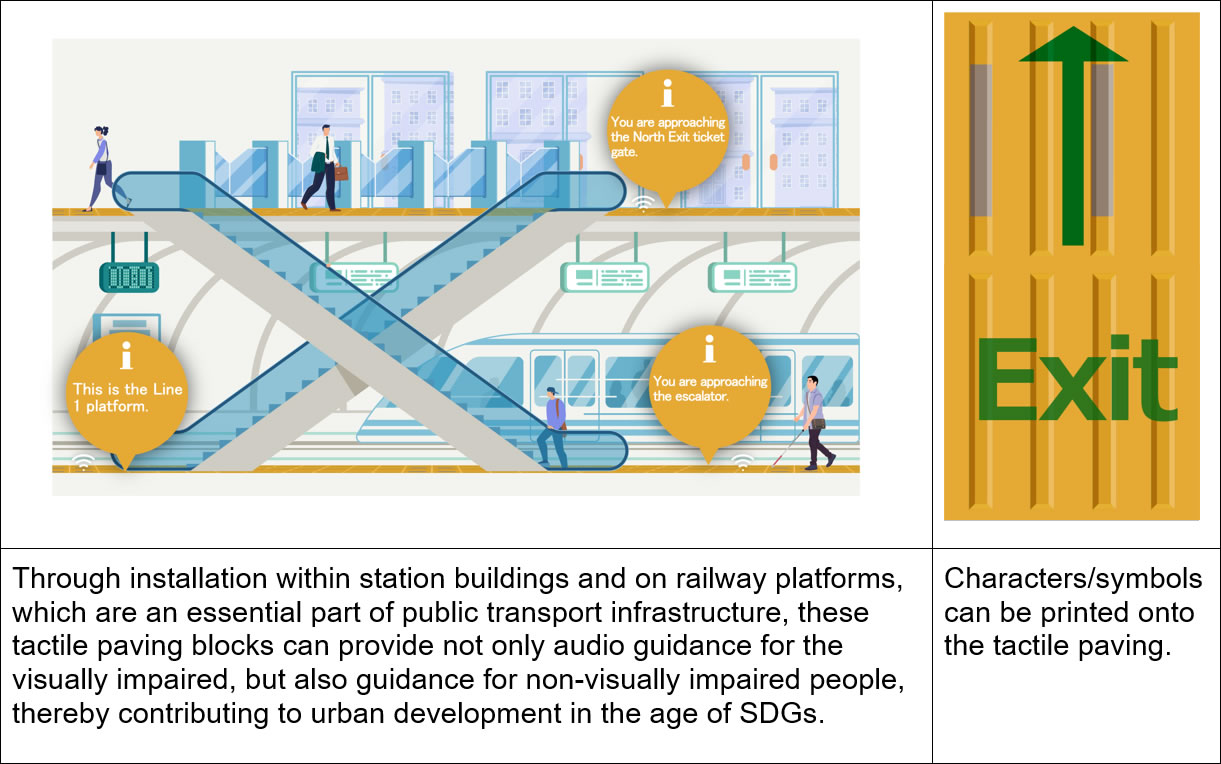 Main specifications of the "thin tactile paving block with built-in solar beacon"

Please visit the product website for details regarding this product.
* ACCESS and the ACCESS logo are registered trademarks or trademarks of ACCESS Co., Ltd. in Japan, the US, and other countries.
* Other company names and product names within this document are the registered trademarks or trademarks of the respective companies.
Contact information for members of the press
■ ACCESS Co., Ltd.: Corporate Communications
 Tel: +81-3-6853-9087
 E-mail: prinfo-gr@access-company.com
 https://www.access-company.com/

■ Seiko Holdings Corporation: Corporate Branding Department
 E-mail: prdeptj@seiko.co.jp
 https://www.seiko.co.jp/

■ Sakai Silk Screen Co., Ltd.
 Tel: +81-776-61-6336
 E-mail: genba@susnoaa.com
 http://www.susnoaa.com/

■ PLAYWORKS Inc.
 E-mail: playworks@keitatakizawa.jp
 https://keitatakizawa.themedia.jp/