September 29, 2020
Seiko Holdings Corporation
Fuyo General Lease Co., Ltd.
Seiko Holdings Corporation (Chairman & Group CEO, CCO: Shinji Hattori; head office: Chuo-ku, Tokyo, Japan; hereinafter referred to as "Seiko Holdings") is pleased to announce the conclusion of a solar-energy-generation green power purchase agreement (PPA*1 service) between its group company and watch manufacturer Morioka Seiko Instruments Inc. (President: Yoshiaki Hayashi; head office: Shizukuishi-cho, Iwate-gun, Iwate Prefecture, Japan; hereinafter referred to as "Morioka Seiko Instruments") and Fuyo General Lease Co., Ltd. (President & Chief Executive Officer: Yasunori Tsujita; head office: Chiyoda-ku, Tokyo, Japan; hereinafter referred to as "Fuyo Lease").

According to the terms of the PPA service Fuyo Lease will install an approximately 800 kW solar-power-generation system on the rooftop of Morioka Seiko Instruments' factory and Morioka Seiko Instruments will use the green power generated from the solar power system for manufacturing and will pay Fuyo Lease an amount in accordance with the quantity of power consumption.

The current environmental problems have now become a global issue and businesses are being required to make efforts toward achieving decarbonization, sustainable development goals (SDGs), and other environmental initiatives. While there are some businesses that are implementing solar-power-generation systems by themselves in the factories of large-scale manufacturing industries, etc., recently there has been a focus on PPA services that enable implementation of sustainable measures against environmental problems without requiring any initial investment.

The solar-energy-generation green power purchase agreement that has now been concluded marks both the first renewable energy system to be implemented by Seiko Holdings Group and the first PPA service offered by Fuyo Lease.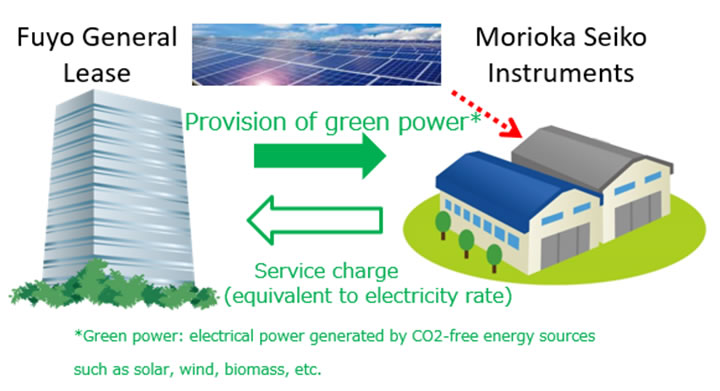 Morioka Seiko Instruments, which is celebrating the 50th anniversary of its founding this year, has a long history of performing integrated manufacturing, from the production of watch parts to the assembly of the finished products. With the aim of conducting environmentally friendly manufacturing, the company has been engaged in efforts to quickly implement countermeasures to global warming, including resource conservation and reduction of waste and hazardous chemicals, and has been working to reduce CO2 emissions from energy sources through various activities such as efficient operation and improvement of manufacturing equipment and reuse of waste heat. Now, by introducing the PPA service provided by Fuyo Lease, Morioka Seiko Instruments will further accelerate its efforts in helping to achieve a decarbonized society.

In its mid-term business management plan "Frontier Expansion 2021," Fuyo Lease Group has established "Energy & Environment" as one of strategic fields and is promoting business that contributes to energy conservation and decarbonization. In addition to providing PPA services, Fuyo Lease has recently been engaged in the development of business utilizing storage batteries, the acquisition of solar-power secondary market projects, etc.,*2 and the creation of its own financing program, the "Fuyo 100% Renewable Electricity Declaration Support Program "*3 for businesses and organizations that have committed to converting their energy consumption to renewable energy, with the aim of providing effective solutions and financial support to its customers making efforts in renewable energy implementation and energy conservation. Moreover, as first Japanese general lease company to participate in RE100, Fuyo Lease will advance its own renewable energy capabilities.

Seiko Holdings Group and Fuyo Lease Group will continue to promote the use of renewable energy and various other initiatives and contribute toward the realization of a sustainable society.
■ Overview of solar-power-generation system
Installation site  :  61-1 Itabashi, Shizukuishi-cho, Iwate-gun, Iwate Prefecture
Planned time of completion (scheduled commencement of service)  :  Dec 2020
Scale of output (module capacity)  :  818.40 kW DC*4
(*1) PPA = power purchase agreement
(*2) FIT (Feed-in Tariff): incomplete construction projects for which acquisition of rights is concluded and projects for which sale of electricity has begun
(*3) A preferential financing program to support "100% Renewable Electricity Declaration RE Action" and RE100-participating businesses and organizations
(*4) DC = direct current
Press Contact
Seiko Holdings Corporation Public Relations Department
E-mail: prdept@seiko.co.jp
Fuyo General Lease Co., Ltd. Corporate Communication Division
E-mail: Fuyo-ir@fgl.co.jp