Limited Models
The limited edition of running watches and clocks are available again this year.
The timepieces with special features are the perfect memorabilia of the event.


SBEF061

Released on November 22, 2019
Limited edition: 1,000 pieces

The most distinctive feature of this watch is the translucent polyurethane band, which is employed for the first time. With the combination of the accentuated sportiness of this model with Cal. S690, which pursued the thinness and lightness, and the case with a mirror finish, this design is reminiscent of glass-walled high-rise buildings, an image of Tokyo where runners run through on the day of the event. In addition, the Sports Timing Yellow, the symbolic color of Seiko at sports events, is used for the START/STOP and LAP/RESET buttons. The year of the event, 2020, is also printed on the band graphically. This special design is only for the Tokyo Marathon 2020 limited edition and can be a motivator for the race.
As special features of the limited edition, the official Tokyo Marathon 2020 logo is marked on the case back and the dedicated box that allows displaying your record or target time by cutting out the portion. Furthermore, it comes with an original pin badge, which is not for sale.
Limited Edition Clocks
with Official Tokyo Marathon Logos
Seiko Sports Timer Digital Alarm Clock SQ815Y
Suggested retail price: JPY 3,000 + tax
Size: 93 (H) x 104 (W) x 45 (D) mm
This digital alarm clock is reproduced based on the official Seiko timing systems used at various sports events.
It features not only an alarm function but also stopwatch and countdown timer functions.
Related products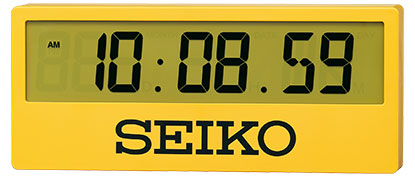 Seiko Sports Timer Wall Clock SQ816Y
uggested retail price: JPY 9,500 + tax
Size: 120 (H) x 290 (W) x 61 (D) mm

This is a new digital clock designed based on the Seiko sports timer that is widely used in many sports scenes. This clock can also be used as a wall clock and its size with the width of 29 cm exudes presence. In addition to the time display, it can be switched to a countdown calendar that display the time and date to the designated date.
※This is not a limited model.