Limited Models
The limited edition of running watches and clocks are available again this year.
The timepieces with official Tokyo Marathon logos are the perfect memorabilia of the event.


SBEF050
Limited edition: 1,000 pieces
Suggested retail price: JPY 16,000 + tax
Released on December 8, 2018

This is the only official watch with the Tokyo Marathon 2019 logos, featuring the stress-free and excellent fit, high legibility that allows checking the time instantly, and the 10 bar water resistance keeps you concentrate on the run in case of a sudden rain. The bright gold color symbolizes our wish to support achieving the runners' respective goals of breaking their records or completing a full marathon, and to be a partner for running the distance of 42.195 km and crossing the finish line.
As a special feature of limited edition, the official Tokyo Marathon 2019 logo is marked on the case back and the dedicated box that allows displaying target time or finish time by cutting out the portion. Furthermore, it comes with an original pin badge, which is not for sale.
Limited Edition Clocks
with Official Tokyo Marathon Logos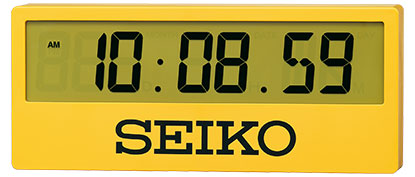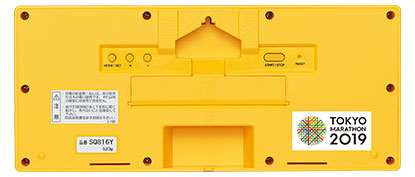 Seiko Sports Timer Wall Clock SQ816Y
Suggested retail price: JPY 9,500 + tax
Size: 120 (H) x 290 (W) x 61 (D) mm
Available only at Tokyo Marathon EXPO
This is a new digital clock designed based on the Seiko sports timer that is widely used in many sports scenes. This clock can also be used as a wall clock and its size with the width of 29 cm exudes presence. In addition to the time display, it can be switched to a countdown calendar that display the time and date to the designated date. This is a limited edition clock with the official Tokyo Marathon 2019 logo stuck on its back side and is available only at the Tokyo Marathon EXPO.
Seiko Sports Timer Digital Alarm Clock SQ815Y
Suggested retail price: JPY 3,000 + tax
Size: 93 (H) x 104 (W) x 45 (D) mm
Available only at Tokyo Marathon EXPO
This digital alarm clock is reproduced based on the official Seiko timing systems used at various sports events.
It features not only an alarm function but also stopwatch and countdown timer functions.
To reserve this product at the Wako Online Store.
Click here for details