Maintext
WARNING: Fake Social Media Accounts!
February 10, 2021
It has come to our attention that there is at least one fake Instagram account pretending to be Seiko Watch Corporation. Warning: The fake account is sending messages that contain a URL that asks for your personal information. Divulging personal information to any source on the Internet can be dangerous. Be careful! Check to be sure you are looking at an Official Account, not a copycat. For example,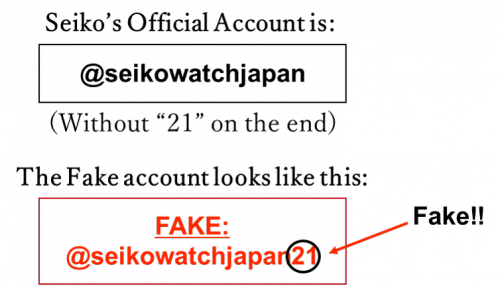 This account does NOT in any way represent Seiko Watch Corporation. This is a fake account! (Remember that other, similar-looking fake accounts may be created, so be careful!)

If you receive a message from this or any suspicious account, on Instagram or any other social media, do NOT click on any links in the message, do NOT click on videos embedded in the message, and do NOT provide any personal information under any circumstances.
The safest thing is to delete the message completely and block that fake account to prevent further trouble.

Always check the user name and other information when you are following other people on Social Media or replying to messages. Do not allow people to steal your personal information!